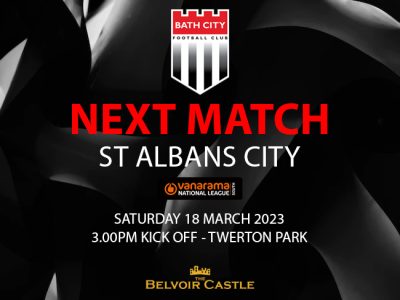 Next Match – St Albans City – Home
City go into Saturday's home match against St Albans knowing that a win could see them return to the play-off positions for the first time since they lost to the Hertfordshire club back in November.
The Club will be hoping that a run of form which has seen thirteen points gained from the last five matches will boost the attendance for its Foundation and Family Day.
In contrast the Saints have lost four of their last five games which has led to them dropping out of the top seven for the first time in several months but they are only three points behind City.
Their lofty position has been the result of the division's second best away record with ten wins recorded, the most eye catching being a 6-0 demolition of Hampton & Richmond and a recent 5-4 win at Worthing.
Manager David Noble is fortunate to have in his squad the prolific Shaun Jeffers whose 24 goals puts him in second place behind Ebbsfleet's Dominic Poleon.
Having scored both goals in his side's win at Twerton last season, he bagged another pair when City visited Clarence Park in the Autumn.
The first goal that day came from a hotly disputed penalty which was followed by a well struck free kick following a foul by Jordan Dyer which earnt the defender a red card.
Mitchell Weiss added a third for the home team who ran out 3-0 winners in front of 1186 spectators.
There was a time when the Hertfordshire club would have been seen as ideal visitors as they had a dreadful record at Twerton with City gaining 19 points from their first seven visits dating from 2007 and only conceded a single goal!
However the tables have recently been turned with City unable to find the net in the last three encounters which have all been won by the Saints.
So with both teams trying to force their way into the top seven and City looking to avenge recent defeats to their opponents there is much to look forward to!