Flexible, affordable meeting spaces with free parking
PLUS – New flexible office hot-desking solutions
Flexible space now available to hire
Bath City FC is looking for a new partner for its 1,600 square foot flexible space that comes with up to 60 car parking spaces on site. The light and airy room features a kitchen, Male and female WCs, level access and two entry points.
The site is based in Twerton BA2, outside the Clean Air Zone (CAZ), next to a convenience store, and easily accessible to major A-roads and the M4, as well as a regular bus route from the city centre, a flat cycle ride or walk, trains into Oldfield Park (apx 1 mile away) and even a Voi scooter park just a few minutes' walk away. Superfast broadband, and an alcohol licence add to the benefits of the site. The room is perfect as a health / fitness space, or clinical delivery, learning or conference / exhibition site.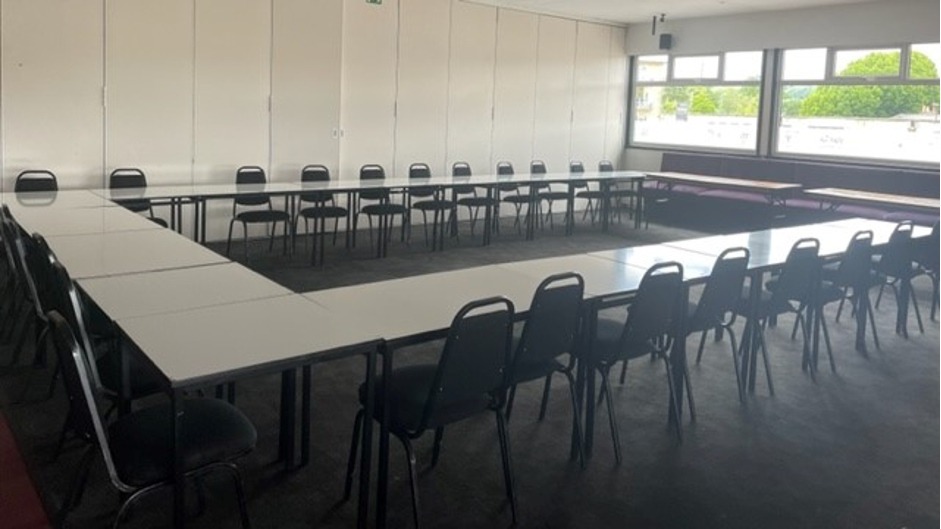 Contact General Manager Carole Banwell at carole.banwell@bathcityfootballclub.co.uk or 07711 44 66 39.
We also offer a range of business suites and offices that are ideal for break-out meetings, seminars, training days or conferences. With teas and coffees and catering available, we can work with you to make your business occasion a success.
Seminars, training and away-days
Our two lounges – the TR Hayes Premier Lounge and John Reynolds Lounge give capacities of 60-80 people and come complete with AV as well as stunning views over Bath. Plus, being located within the main football grandstand, the rooms have a unique atmosphere that makes for a memorable visit.
We offer a personalised business event management service including catering options and will work closely with you to meet your needs.

Hot-desking and flexible office solutions
We work with a number of clients to offer hot-desking or flexible office services. If you need a base for your business or organisation for a day a week or more, we can work with you to find the right solution. We are currently home to several businesses including Arcs and Sparks Electricians, Forget Me Not dementia day club, and Webuyanycar.com Bath.
Contact General Manager Carole Banwell to discuss availability and pricing on carole.banwell@bathcityfootballclub.co.uk or 07711 44 66 39.