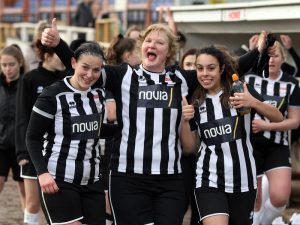 BATH CITY WOMEN'S FIRST SEASON DRAWS TO AN END
As our first season draws to a close, we're delighted to announce that Novia, our founding partner have committed to a further two years of sponsorship. This means that, along side our First Team, we will be able to have a Development Team next season (2023/24). We're really proud of what we've achieved in our first year:
On the pitch
As a brand new team, we've been competitive in Division 1 of the Somerset County Women's league and have finished second in our first season. We're waiting to hear if this is enough to secure promotion.
We look to play a style of football which shows confidence in defence with a high press while trying to counter fast during transition this creates a fast-paced entertaining game.
Off the pitch
We aim for parity with men's team as far as we can. This means
We play our games at Twerton Park
Have highly qualified coaches and physio support
Replicate the match day sport presentation, including player announcements and programme
Enjoy crowds of 100+ for every game
Have active social media accounts across all platforms
Produce video highlights for all home games
Encourage young girls through Mascot programme
Have attracted media interest with coverage on local TV and Radio
If you are interested in joining us for the 2023/24 season, we will be holding a recruitment day at Twerton Park on Sunday July 9th. To register your interest in attending, please email Bathcitywomen@bathcityfootballclub.co.uk with the following details.
Name:
Date of Birth:
Email address:
Phone number:
Position that you play and playing experience to date:
Why you would like to join Bath City Women:
If you have any other questions, please get in touch on bathcitywomen@bathcityfootballclub.co.uk