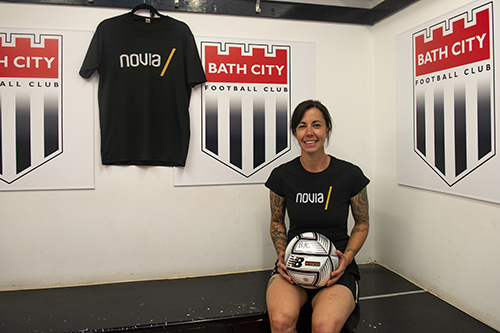 We are excited to launch Bath City Women, a team who will carry on the proud tradition of women playing in the black and white stripes and which started as long ago as 1920.
The women's game is very different now and the club is fully committed to supporting Bath City Women on and off the pitch.
As stipulated by FA rules, the women's team will begin competing in Tier 7 of the Women's Football Pyramid in the forthcoming season 2022/2023. The overall ambition is to achieve promotion quickly and move up through the tiers.
The club will ensure that our women's team is properly resourced to be sustainable and successful. This includes playing home matches at Twerton Park, employing specialist coaches where needed and ensuring that everything we do is best-in-class for the league in which we operate. We have a founding commercial partner in Novia who share our aims.
We are looking for a dynamic, committed Head Coach who shares our ambition and is keen to start this exciting journey with us. If you're interested in applying, click here for the Job Description and details of how to apply. All applications must be received by Friday 24th June. Interviews will be held on the evening of July 4th in Bath.
If you are a player interested in joining us, we will be holding a Recruitment Day at Twerton Park on 10th July at 2pm. Please send an email to bathcitywomen@bathcityfootballclub.co.uk with the following details to register your interest and receive joining instructions:
Name:
Date of Birth:
Email address:
Phone number:
Playing experience to date:
If you have any questions, please get in touch on bathcitywomen@bathcityfootballclub.co.uk