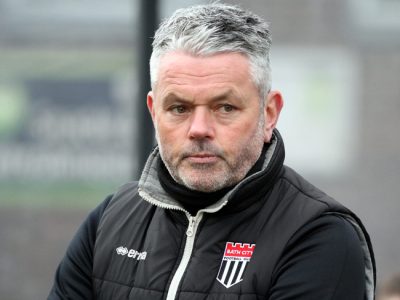 Read Jerry's St Albans City Programme Notes
Good afternoon and welcome back to TP for yet another game within what has been a hectic period for us all. My welcome is extended to David, his staff, players and supporters from St Albans City FC. I hope they have a safe journey to and from Bath today.
Well what can I say about my group of players. We have a very small squad, have been hit with injury after injury but they have never stopped giving. The current run of form and results is the best in the league and I am so pleased with the relationships we have built within the group. On and off the pitch we have a real connection and understanding of what is needed to perform at our best on the with every game and challenge we are faced.
The players have played some brilliant football with a purpose and end product and shown a ruthless winning mentality.
I can write about all the past few weeks in terms of individual performances and results but it's so important we focus on today's tough task ahead of us and implement our way in the game.
We will be without Kieran, but the news is good on his injury. Thankfully he has no break or fracture as we all first feared so we are hoping to see him back on the pitch next Saturday after the bruising and swelling settles down.
Joe Raynes is now making good progress and again we are hoping to see him get some minutes Tuesday at Frome Town.
If you are here early enough you will be very pleased to see Alex Fletcher out on the pitch in his boots doing some light work with Aaron our sports scientist. Fletch has been doing brilliant but we all and importantly he knows he has a long way to go but is working hard to reach his targets week in week out. If you see him I am sure you will all make him feel happy to be back around the place.
Tuesday night's game had a very special feel about it. The weather meant the support gathered together under the popular stand in large numbers and I want to thank you all for making it hostile and loud from the first minute until the last.
The players put in an energetic, physical and quality performance. It had everything, we mixed our game up so well and in the end, they just couldn't cope with our relentless pressure.
I was really happy we manged to score with Jordan's brilliant header from a corner. It's an area we are trying to be better with. The deliveries are excellent but we are trying different ideas to ensure we are getting first contact more often.
When Scott scored the winner from another wonderful open play passing pattern,  the place erupted and the scenes of celebration were amazing to be part of.
Today is the Foundation and Family Day here at TP. Our Foundation continues to do some amazing work out in the schools and community and this should be recognised here today. We are also seeing more and more younger supporters and their families come and watch our games. The wide range of ages really do make it feel unique and special on matchday's.
We move to each game with a belief and a desire to win. Of course, there are going to be more challenges along the way but we focus on the game today and affect what we can affect.
Enjoy the game today
Jerry.