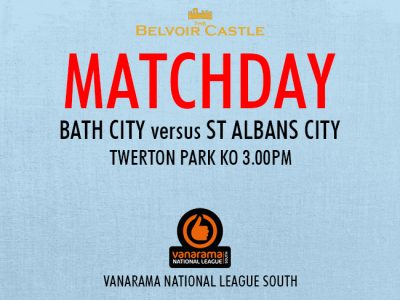 It's Matchday – Foundation & Family Day!
The play-off-chasing Romans return to Twerton Park this afternoon against St Albans City in a fixture where the Romans will look to close the two-point gap to the play-off places following on from an impressive run consisting of 13 points out of a possible 15. The Saints currently sit three points behind the Romans in 10th position in the League having only picked up three points in their past five fixtures. However, the ever-present goal threat of Shaun Jeffers will prove to be a strong test for Jerry Gill's side with the striker scoring 24 goals in 35 League appearances this season.
In collaboration with the Bath City FC Foundation, City are inviting local families to attend today's fixture at specially reduced prices. A family of four can enter for just £25 while all under-16s can enter for free (U11's must be accompanied by an adult).
Secure your tickets today!
The Foundation and Family Day is aimed at enabling more families and young people to have a great football experience at Twerton Park. All made possible by funding provided through a new partnership with The Roper Family Charitable Trust.
Children's activities will be available at the event from 2pm and will include Beat-the-Goalie, face painting and an ice cream van. Bladud the Pig, the Club's mascot, will also be entertaining families before the 3pm kick-off. At half-time, participants from the Foundation's SWALLOW charity football group will have a five-a-side game on the pitch.
Click here to find out more about the event.
What: Bath City v St Albans City
Where: Twerton Park, Bath
When: 3pm, Saturday 18th March
Tickets: Buy online now to access family ticketing deals or pay at the gate.
Thank you for your outstanding support and we look forward to welcoming you back to Twerton Park this afternoon for our Foundation and Family Day!