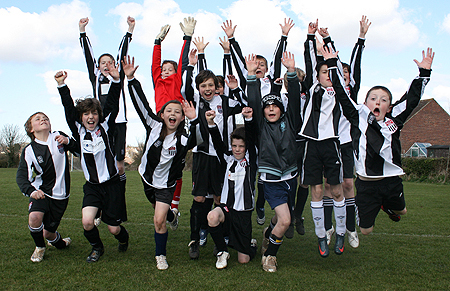 Bath City Youth FC is a grassroots Chartered Standard football club that runs boys and girls teams from Under 6 to Under 17. A player associated with BCYFC is engaged to learn and develop.
We desire that all players are happy, enthusiastic and dedicated and no matter where their football journey takes them are better equipped for their life journey through their association with us.
We wish to be one of the leading youth football clubs in the South West of England, renowned for a strong association with its community and a long tradition of developing young players of all abilities to play football in the Bath City Youth way and conduct themselves appropriately.
We aim to reverse the decline in sports participation in our community by demonstrating daily the life-long benefits of an active and healthy lifestyle and engagement in team sports.
We're always interested in hearing from aspiring young players, so please do get in touch with us.
Our club is affiliated with the Somerset FA:
Contact
Home Pitches
Lansdown Park and Ride, South pitches, Bath BA1 9JB
https://www.google.com/maps/place/Lansdown+Park+%26+Ride/@51.4109623,-2.3877602,15z/data=!4m5!3m4!1s0x0:0xac81aa474dbb3b1c!8m2!3d51.4109623!4d-2.3877602
Club Management Committee 
The Bath City Youth FC Management Committee is comprised as follows:
Chair, Robin Thomas
Vice Chair, Andrew McPhee
Treasurer, Jeremy Burgess
Secretary, Jane Gibbons
Welfare Officer, Christopher Ellicott
Assistant Welfare Officer, Michael Farrier
Coach Development, Phil Rochford-Smith
Head of Girls Football, Neil Clampitt-Dix