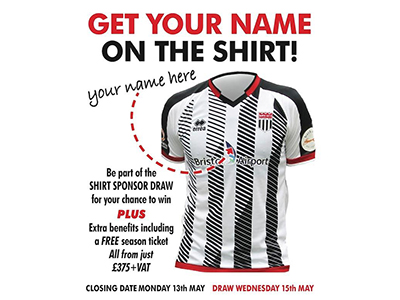 Be part of the 2019/20 Shirt Sponsor Draw
Planning for next season is now well under way as we look for our new shirt sponsor for season 2019-2020. Bristol Airport were the winners of the draw back in May 2018 and have their name on the front of the first team home and away shirts with Solicitors Own Software (SOS) on the back of the shirts and Bath Chef De Party on the shorts. Please click below to find out details of how to enter the draw, the prizes and the benefits. Or contact Bob Chester by email or 07786 092836.
Information      Application Form      Draw T&Cs      Sponsors Club T&Cs
League crowds are averaging over 1,000 – up 60% on last year, and Bath City reaches people an average of 600,000 times a month via Twitter, web, Facebook, Instagram and more.
Imagine the benefits you can have by association!
Enter online now or contact Bob Chester by email or 07786 092836
The draw will take place on Wednesday 15th May.
Our thanks to the businesses who have already signed up to the draw:
Allen Kia, Art Accountants, ASE Courier Services Ltd., Ashmead Roofing Supplies, Bath Ales,  Bath Building Society (Gold), Bath Pizza Company, Belvoir Castle, Bird In Hand, Bristol Airport (Gold), Bath Chef De Party, Canon Clarke, Curo, EverythingIT, Flan O'Briens, Freestyle Designs, Frome Scaffolding, Great Western Railways, Half Moon Bay, Hooke Highways Limited, JEM Heating, John Moore Sports, Media Clash, Medlock Electrical Distributors Ltd, Midland Car Company, Millard Signs & Graphics, Minuteman Press, Mob-B-Que, Moore Stephens, Newbridge Auto Centre, Novia Financial plc (Gold), Perma Frame, Platinum Motor Group, Rotork, Snapdragons Nursery, Solicitors Own Software (Gold),Statsbomb Statistics, Stokes Masonry (Bath) Ltd., Top Dog Mortgage Company, VASS of Bath Ltd., Yum Yum Thai Restaurant