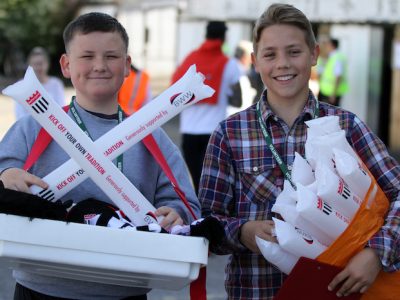 Season-best crowd for Community Day match
Bath City's biggest crowd of the season so far turned out for Saturday's 'pay what you like' Community Day match on Saturday. Some 1,444 fans and first-timers made the visit to Twerton Park for an afternoon of fun, giveaways… and football.
Generously supported by electronic marketing communications agency, BWW Communications, Bath City's Community Day was a chance for people across the area and city as a whole to enjoy a match at their local club, paying as little or as much as they liked.
The afternoon featured visits from Bath City Farm and the Scallop Shell fish and chip van, an outside bar, free inflatable thundersticks, selfies with players and Bladud the mascot, and the inflatable beat-the-goalie challenge. The occasion was notable for the big number of families who turned up to enjoy a fun afternoon in the September sunshine.
On the pitch, The Romans dominated the first half taking the lead through Ross Stearn, before letting things slip in the second half and going behind to two quickfire goals from Eastbourne. Thankfully, City secured a late equaliser through Harry Hamblin and the bumper crowd was able to head home without the disappointment of a defeat.
The Club would like to thank everyone involved in promoting and putting on this special match, and to everyone who came along to watch the match.