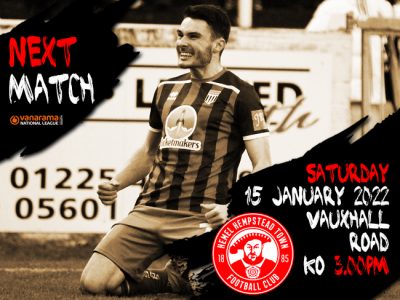 Hemel Hempstead Town Match Preview
Following the disappointing result at Chelmsford, City are on the road again this Saturday when they travel to Hertfordshire to take on Hemel Hempstead Town.
The two teams lie next to each other in the table, both having completed half of their 40 matches with City one point ahead on 24.
The Tudors have the most bizarre record this season with only title chasing Maidstone bettering their achievements away from Vauxhall Road but the total of just four points from ten home matches, without a single win and 28 goals conceded, is the worst in the division.
They conceded 13 goals in total without reply in the first two months to Braintree, Dulwich and Oxford and also exited from the Cup and Trophy at home to lower level Ware and Stourbridge.
Hemel spent the first 11 matches languishing in the bottom three positions but their away form, including an excellent New Year win at neighbours St Albans, has lifted them away from the danger zone. However, hopes of better times were soon dashed with yet another home defeat last Saturday to Ebbsfleet.
As is so often the case at struggling clubs, there has been a high turnover of players this season with 39 having made starts, including a short loan spell by Freddie Hinds.
The two clubs have only met at Twerton in the past two seasons, sharing one victory each, so Saturday sees our first visit to Vauxhall Road since September 2019 when Ryan Brunt's goal from the penalty spot could not prevent a 2-1 defeat, City's first at the ground for some thirteen years.
Honours are pretty even in the sequence of matches since the first in 2004 with City's record standing at three wins, three draws and two defeats. The ground will certainly hold happy memories for Scott Partridge and Ross Stearn who both grabbed hat tricks there while this fine goal by Sean Rigg, set up by Anthony Straker, earnt a point in 2018.
The Vauxhall Road ground suffers from some very low seating along the sides of its sloping pitch but it is blessed with two covered ends which can generate a good atmosphere.
While the town of Hemel is perhaps best known for its 'magic roundabout', it is surrounded by some delightful Hertfordshire countryside and provides a good base for a long weekend visit. The nearby Crabtree pub is popular with City supporters and there are some very pleasant hostelries further afield in the old town.
The 120 mile trip from Bath will take around 2.5 hours. The Supporters Club is running a large coach and thanks to a donation from the Club adult fares will be just £16! Full details can be found here.
The train trip from Bath Spa involves changing in London and it is cheaper to go from St Pancras to St Albans than from Euston to Hemel. You will then need at least one bus from either station to get to the ground.