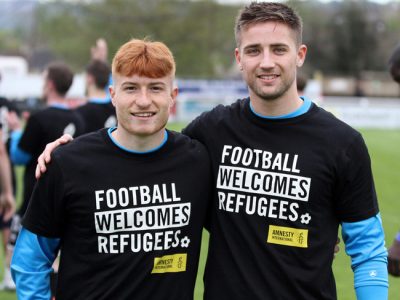 City back Amnesty International campaign
As part of Amnesty International's Football Welcomes campaign, Bath City Football Club is joining football clubs across the country this month (April) to welcome refugees and people seeking asylum,
Now in its fifth year, Football Welcomes celebrates the contribution players from a refugee background make to the game, and highlights the role football can play in bringing people together and creating more welcoming communities for refugees.
Football Welcomes this year coincides with the return of grassroots sport as lockdown rules ease, which provides a much-needed opportunity for people to reconnect with each other and their communities and to improve mental and physical health.
Although Bath City FC's 2020/21 season was brought to an unwelcome halt by the COVID-19 pandemic, our community work and that of the Bath City FC Foundation has been ongoing.
To mark the month, which is supported by the players of People's Postcode Lottery, Bath City FC is re-launching its Refugee Season Ticket scheme, created in 2019, that enables companies or individuals to buy season tickets to be used by refugee families to attend matches, and extend it through the upcoming 2021/22 season. Bath City FC works closely with local organisations Bath Welcomes Refugees and Julian House to promote the season ticket access to the refugee community in the local area, and to ensure matchdays feel safe and accessible for all attendees.
The Club also look forward to hosting further 'Refugees Welcome' days at Twerton Park when the government guidelines allow for this to be managed safely.

Jerry Gill said "As the first team manager, along with my staff and players we support and welcome refugees to our football club and wider community within Bath. We are happy to be a platform for local companies to back the Refugee Support Scheme by purchasing tickets so refugee families can attend matchdays in a welcoming and safe environment. We are an inclusive club that welcome families and supporters of all backgrounds and hope to see you all back at Twerton Park real soon."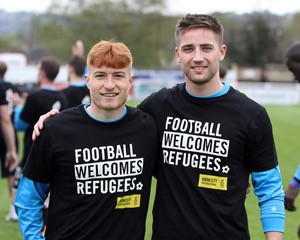 Bath City FC is one of many clubs from across the Premier League, English Football League, FA Women's Super League, Championship and National League, Cymru North and South, and grassroots teams that have signed up to take part in Football Welcomes.
Naomi Westland, Movement Building Manager at Amnesty International UK, said:
"With the long-awaited return of outdoor activities, we are excited to see the commitment from the footballing community to come together and welcome refugees. Clubs are at the heart of their communities and football can be powerful force for good, bringing people together and a providing a sense of purpose and belonging. For those who've fled conflict and persecution and had to leave everything behind, this is incredibly important. It's heartening to see football clubs across the country doing great work in their communities to show there is more that unites us than divides us."