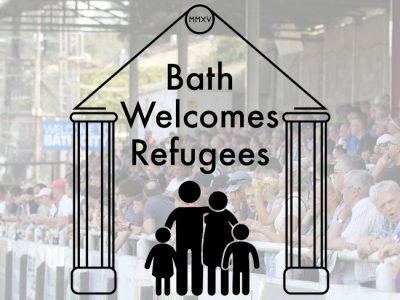 Bath City FC announces Refugee Family Season Ticket Scheme
Bath City FC is proud to announce the launch of a scheme to enable refugee families settling in our city to regularly attend Bath City FC matches at Twerton Park.
Working together with Bath Welcomes Refugees (BWR), the club invites local businesses or individuals to buy season tickets which are then given to BWR to pass on to local refugee families so that those families have the opportunity to come and enjoy the football along with others in the community. The idea originated with City supporter, David Kongialis. David said: "I was really impressed by the impact of Bath City's previous refugee inclusion initiatives with Amnesty Football Welcomes and thought it would be amazing to expand that impact across the season."
The club is offering the tickets at a reduced rate – and has donated one itself using proceeds from the Bath City / Bath Ales Community Fund.
Bath City FC Community Director Joy Saunders said: "Here at Bath City we know that football is a really powerful form of 'social glue', an international language which enables everyone, regardless of where they are from, to immediately be on the same side and support a common interest. We hope this scheme will help promote community cohesion in our city."
Amanda Stone of BWR said: "We are so grateful to Bath City, to David and to The Mint Room who have been involved to enable this idea to get off the ground. One of our chief aims is to help settle in Bath or surrounding area those people who were persecuted and in danger in their own countries and homelands and we are sure that this expression of friendship will go a long way towards making our families feel a part of the community – win, lose or draw!"