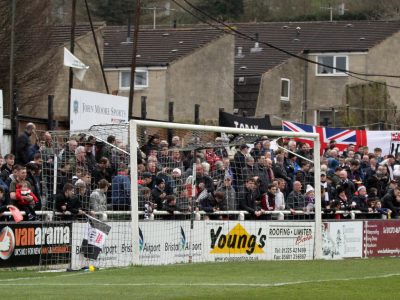 Be part of the Bath City Bounce Back Appeal
In the past 12 months your Club has been hit with some big knocks, but we keep coming back and are now getting ready to finally welcome you back in the summer. So today we're launching our Bath City Bounce Back Appeal.
To get ready for next season we've got some work to do and to pay for:
League fines (unbelievably, but we are appealing!)
Ground structural safety works
Electrical upgrades
Substantial pitch drainage work
We need a total of £25,000 to pay for these EXTRA COSTS against the backdrop of drastically reduced revenue. We've lost most of our rental, all bar and ticket revenue and had hits on commercial income too.
Last year we raised £53,000 to compete in the play-offs and the excess funds have helped us to get this far through the season as grants started running out. Plus, over 160 people bought season tickets, 47 companies entered the shirt sponsor draw and many more people contributed to the Player Pledge.
To date we've managed to get this far without dipping into the season ticket money – and as purchasers haven't been able to attend matches we haven't treated it as the Club's money.
But we estimate we need £25,000 just to get ready for the new season and be sure of being allowed to have supporters back in the stadium. We are applying for some grants to help with these costs and are optimistic we'll be successful with some, but can't guarantee they'll be awarded – and in the meantime the work has to be done.
Any extra money we raise will be ring-fenced to support Jerry's playing budget for 2021/22.
How can you help?
Everyone can make a donation to the Club to help us hit our Bounce Back Appeal target. Choose from the options shown on the Crowdfunder page to receive rewards and recognition and make your donation. Find out more now
If you're a season ticket holder you can consider gifting the Club some or all of the money you paid for your 2020/21 season ticket. If you haven't already just fill in the form to say what you want to do. Your gift will earn you the same rewards and recognition as a cash donation. Already 68 people have made this gift.

You can share the appeal on social media.
Donations and Season Ticket Gifts will both be shown against the running total, working towards our target of £25,000.
It's been a tough year and we know not everyone is in a position to make a donation, but if you can spare it we'll be grateful for any help, large or small. With your help we'll be back at Twerton Park soon doing what we love – watching City out on the pitch.
Thank you for your support!
Head over to the Crowdfunder page now
Please note – all rewards are subject to any prevailing Covid-19 regulations or similar, and also subject to capacity in hospitality lounges.