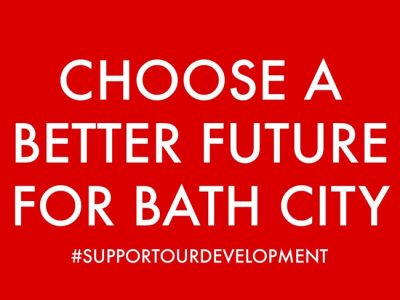 Your Club Needs Your Help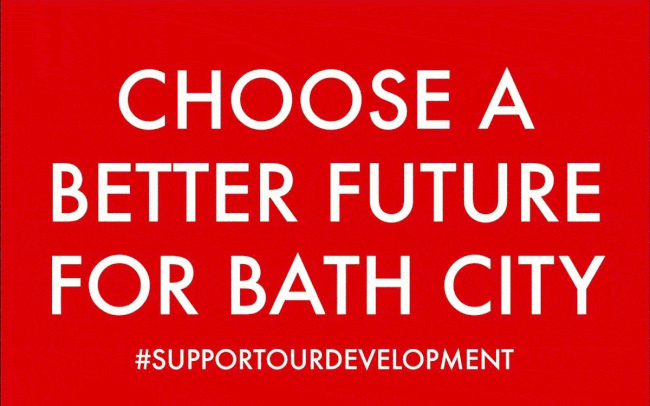 You may have read that the Council's planning officer has recommended rejecting our vital planning application. We are very disappointed in this, but it is far from the end of matters. The actual decision will be made by the councillors who sit on the planning committee next Wednesday 11th March.
So we need your help to encourage them to pass the application.
What you can do:
Write to your own councillor again (find yours here)
Attend the match on Saturday and hold up our "Choose a Better Future for Bath City and Twerton" posters on the 32nd minute* of the match (distributed at the turnstiles)
Share any social posts we make about the application to all your friends with #supportourdevelopment (please Share/Retweet not Like to increase reach)
Attend the planning committee meeting at 2pm Wednesday 11th March (let us know you're coming – or just turn up on the day)
Our key messages in the light of the planning officer's recommendation:
The recommendation says the High Street block could adversely impact the conservation area – but the officer has approved the height and build quality of the grandstand, so how can different standards be applied to the rest of the development?
Regardless, we'd suggest that the development will be an improvement on the current condition of the Twerton conservation area
91% of nearly 900 people who commented on the planning portal supported the application – the council should listen to its people
Does the council really want to turn away £50m of private investment in the area of the city that needs it most and where it can improve lives?
Bath City Football Club will seriously have to consider its future in Twerton, and indeed Bath, if the application is rejected
We ask that the councillors choose a better future for Bath City FC and for Twerton and don't turn their backs on a once in a generation opportunity.
Thank you for your help – see you Saturday!
*Bath City FC has played at Twerton Park since 1932 – hence the 32nd minute. We want to stay here till 2032 and for many decades beyond.