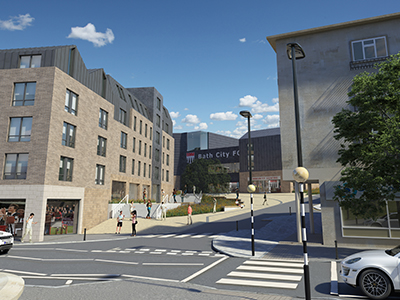 Club Statement about Twerton Park Redevelopment Planning Application
We are aware that the planning officer has today made a recommendation to refuse our planning application. However the final decision will be made by the councillors on the planning committee. We look forward to their planning meeting on 11th March when they will have the chance to consider our application in full and, we hope, will make the positive decision to support Bath City and Twerton's future by granting us planning permission.
You can download the recommendation report here, with the reasons stated on pages 48 and 49. (or go to the planning application and then select the report from the Documents tab)
Supporters of the Club and scheme are encouraged to attend the committee meeting on Wednesday 11th March, gathering outside The Guildhall from 1pm with the committee meeting commencing at 2pm and our application first on the agenda. Please register here to let us know if you are able to attend.
You can also request to speak at the planning committee meeting by contacting Democratic Services on (01225) 394414 or by email at Democratic_services@bathnes.gov.uk no later than 5pm on the Monday prior to the meeting.
Thank you for your support.