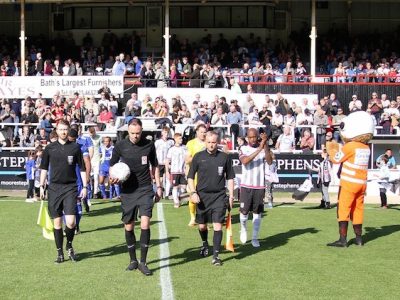 Thanks to everyone for Community Day
Thank you for supporting Community Day
Saturday's Community Day match was a record breaker with a crowd of 1,585 being the highest yet for Community Day and the highest league attendance at Twerton Park for over seven years.
The Club Board would like to thank the people of Bath and the surrounding area for coming along in such great numbers. Obviously the result on the pitch didn't go as we'd have wanted, but we hope that everyone enjoyed the experience and standard of football, and as many people as possible come back this Saturday for our FA Cup 3rd Round Qualifying tie against Lewes FC. Man-of-the-match Joe Raynes and Manager Jerry Gill both echoed the thanks and expressed the hope they can come up with a win for the fans next time out.
The Board would also like to record its thanks to all the Club's staff and to our growing band of volunteers. Everyone from designers and photographers creating the marketing material, volunteers visiting schools and university freshers' fairs, our social media and web team and the effort put into liaising with local businesses to support the occasion, helped to set up the day. Saturday saw extra turnstile operators supporting our loyal regular team, school-age 'meeters and greeters' outside the ground, students helping our hardworking bar team, the hospitality team upstairs, our ballboys and girls at pitchside and more volunteers running the inflatable shootout in Randall's. The list goes on and we'd like to also show our appreciation to our helpful stewards and everyone else who helps with the pitch, shop, ground maintenance and more.
Lastly a big thank-you to Anthem Publishing, Curo, Great Western Railway, Novia Financial plc, Sitec and Bath City Exiles for financially supporting the day, Bristol Airport and John Martin Coaches for sponsoring the match and ball respectively, and to First Bus Bath, Newton Farm, Councilor Tim Ball and numerous local schools for their help in promoting the occasion.
This was a Community Day with so much of the community involved and one to be proud of.
We look forward to welcoming everyone back again on Saturday and in the future. Thanks.