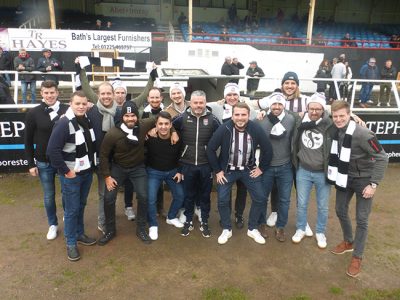 Stag-do to remember for the Boys from Cologne
Saturday's victory over Concord was enjoyed by every City fan that was lucky enough to be at Twerton Park. But perhaps none more so than a visiting stag-do from Cologne in German, made up of best man Nils and groom Carsten along with 12 more friends who had the time of their lives. Nils takes up the story:
---
I can't thank you enough for what you and your lovely staff did for us!
We had an absolutely amazing time at Twerton Park and this day will always be in our memories! Carsten (the groom) and everybody else of the boys couldn't stop enthusing about every little thing we experienced that day. From the very warm welcome at the beginning to your recommendations for dinner in Bath at the end – it all was absolutely brilliant. Thank you for calling the taxis and making the reservation at Yum Yum Thai – the food was excellent! Everybody loved it. We had a great evening at Bath that night. Lot of the club's chants were audible that night in Bath.
You and your staff, Jerry and his squad and all the nice people we met at the bar or the stand that day – you all made it really special for us. It was a real pleasure to be with you. It felt like we were boys from the neighbourhood and we enjoyed every second of it.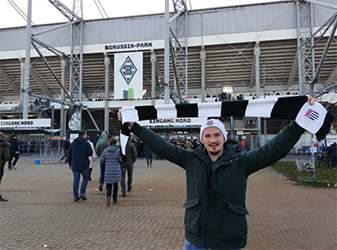 We made it back to Germany on Sunday – everybody was in a good mood and everything worked out well. We even made it on time to Borussia's match against Bremen, which of courses we attend in our brand new Bath City accessories. Borussia won their match and are still at the top of the Bundesliga. So it was the perfect ending to a perfect weekend.
Thank you for the photos and the link to Mr Howe's Flickr website. I think everybody of us is a Facebook fan of Bath City as well now.
I would like to thank you in particular for taking so much time for us. You did an amazing job!
And I think I don't need to mention, that Bath City FC have now gained fourteen new fans from German and I will send you an email after the wedding with some photos to show you their reaction to your nice wedding card.
---
If you'd like to enjoy a special day like no other, please contact Bob Chester at info@bathcityfootballclub.co.uk or call 07786 092836 or 01225 423087