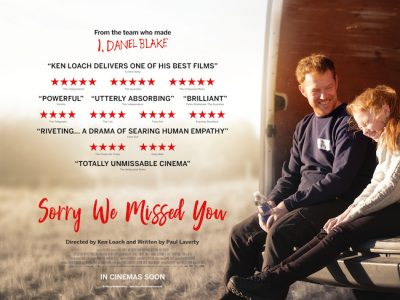 Sorry We Missed You screening with Ken Loach
Bath City are pleased to present an exclusive screening of Sorry We Missed You, in the company of director Ken Loach.
Doors open 6.45pm, 7.15pm start
Saturday 23rd November, Twerton Park
See this powerful new drama at Bath City Football Club, where Ken can often be spotted on the terraces amongst the matchday crowds. Following the screening there will be a discussion that will offer the chance to share thoughts and experiences and to hear more about the making of the film.
"The I, Daniel Blake director raises his game yet further with this gut-wrenching tale of a delivery worker driven to the brink", The Guardian.
We have three categories of tickets:
Standard £2
Solidarity £10
Solidarity 'Plus' £20
Buy tickets online now or call 01225 423087 during office hours.
Solidarity and Solidarity 'Plus' tickets are available for those who feel able to support the provision of tickets at Standard prices for the whole community.
PLEASE NOTE – NO MORE THAN FIVE TICKETS PER PURCHASE
This is a community event and we want to make it available to as many people as possible. If you purchase more than five tickets, we may cancel and refund the excess.

Previous screenings of Ken's film I, Daniel Blake, triggered an invigorating and wide-ranging conversation amongst the attendees. This event will be an another opportunity for the local community to enjoy Ken's new film and be involved in  discussions thrown up by the release.
There is ample free parking, or alternatively Twerton Park is within a twenty-minute walk, short taxi ride, or frequent bus service from the city centre. More travel details here
Date – Saturday 23rd November
Doors – 6.45pm
Screen time – 7.15pm
Venue – Randall's Bar, Twerton Park, BA2 1DB
Buy tickets online now or call 01225 423087 during office hours.
Proceeds will be shared between Bath City FC Foundation, Southside and Bath City FC.
Order Processing and Delivery Details
When you have completed your  purchase, you will receive a confirmation email. Your name and number of tickets will then be on our list and you simply need to identify yourself on the door. We look forward to seeing you on the night.