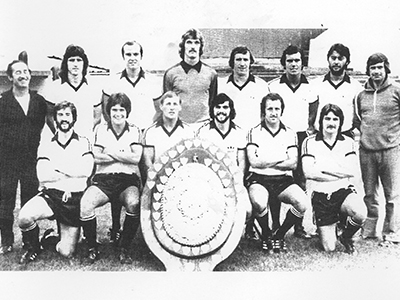 Southern League Championship Anniversary Dinner
We're holding a special celebration event at Twerton Park on Friday 9th March to celebrate the 40th anniversary of Bath City's 1977/78 Southern League Championship win along with 100 seasons of City's participation in the FA Cup.
We've confirmed the following players who will be hosting tables – join them!
From the Championship side of 1977/78: Paul Gover, Colin Tavener, Martin Wheeler, Richard Bourne, Martyn Rogers, Peter Rogers, Peter Higgins, Glyn Broom, Micky Burns and Nigel Ryan
From teams linked to FA Cup glory:  John Freegard, Paul Randall, Dave Mogg, Keith Brown, Dave Payne, Ian Hedges, Paul Bodin, Jerry Gill, Chris Holland, Gary Smart, Jim Rollo and Adie Mings
The format of the evening will be similar to the successful Legends Evening that was held in April 2015 to celebrate the 125th anniversary of the foundation of the Club, when former players hosted a table each and took to the stage to recount memories of their favourite matches and incidents.
Tickets are just £35 each, with the opportunity to sit on your favourite player's table, enjoy a two-course meal with coffee and mints, entertainment by Wayne The Weird (a comedian/magician – watch his trailer video) and the chance to mingle and chat with the players… and more.
Cannon Clarke have kindly agreed to sponsor the tickets and Bath Ales are sponsoring the evening.
Please see Bob Chester, email or phone on 07786 092836 to reserve your places and for further information. Or BUY ONLINE