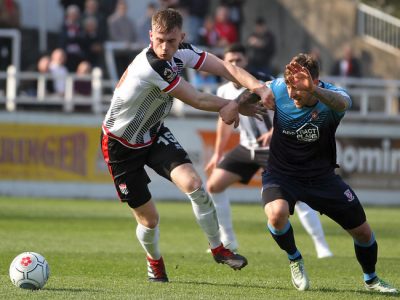 We are pleased to announce that Robbie Cundy this afternoon secured a move back to full time football with Championship side Bristol City. A compensation fee has been agreed between the Clubs.
Having signed for the Club last summer, Robbie was an ever present in the starting XI, quickly developing into one of the best centre backs in National League South, and was a firm favourite amongst staff, players and supporters winning all three of the player of the season awards.
Robbie goes with our best wishes, a big thank you for the season just ended, and we will watch his progress closely and wish him well.
Jerry commented, "Having sat with Robbie in the summer and discussed his football ambitions, it was clear he had the desire to return to professional football. During the season his commitment, application and willingness to learn saw him make huge strides in all areas of his game. I am delighted he has secured his move to Bristol City, further enhancing our ongoing relationship with Brian Tinnion and the Robins.
After a busy day, Robbie's parting message was, "Just wanted to say a massive thank you to everyone at Bath City for this last season. It's been a great year in so many ways, unfortunately we couldn't get the promotion we all wanted. This summer I've been given a great opportunity to play for Bristol City. I therefore wanted to take this time to say thank you to everyone associated with Bath from Jerry, Paul, my teammates, and the fans for the support home and away all season. I wish Bath City all the best in the future."