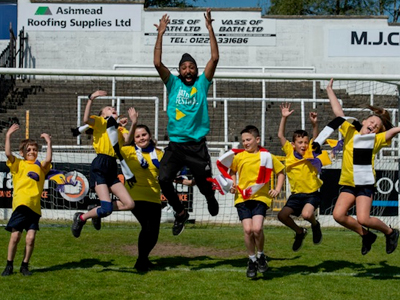 Pitch Invasion – Bath Festival at Twerton Park
Inspired by the sounds and songs from the terraces at Bath City FC, composer Omar Shahryar and choreographer Deepraj Singh have worked with St Michael's Junior Church School, Roundhill Primary School, Action on Hearing Loss EDS, and the football club to create an all-singing, all-dancing celebration of the things that make us different and the things that unite us. They performed their creation on the pitch at Twerton Park on Wednesday of this week, making a fabulous, joyful spectacle which could be heard across the area!
Pitch Invasion is funded by Trevor Osborne Charitable Trust and Joyce Fletcher Charitable Trust.