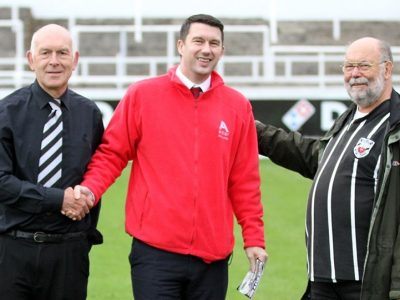 A-Plan Insurance cheque presentation
Bath City were presented with a cheque by A-Plan Insurance linked to the scheme where for every new policy that goes to cover quoting Bath City FC, A-Plan Insurance will donate £25 to the Club.
The photograph shows Bob Chester plus Craig Pope from A-Plan Insurance at half-time at last Saturday's game against Hemel Hempstead Town. Also in the photograph is Bath City supporter Maurice Ashman who has taken out insurance with A-Plan.
Maurice has commented, "I received my annual car insurance renewal notification showing £522.32 was going to be taken from my bank account on 24th April. I was unhappy, because this was a very big increase in premium from 2016. I had already met Craig of A-Plan at their promotion event at Twerton Park and gave him a call. He assured me that they should be able to beat this quote. It turned out that they could match my premium from the previous year! I ended up paying only £380.12 for this year. It got better – I am still insured by the same insurance company – nearly £150 better off AND Bath City FC have £25 from A-Plan!"
Give A-Plan a call on 01225 788044 for personal attention to your insurance needs and to help Bath City!
Find out more about A-Plan – or enter the prize draw below.
Enter the Bath City free prize draw, in association with A-Plan Insurance, for your chance to win a first prize of £20 cash, second prize of a £20 Domino's Pizza voucher and 3rd prize of a pair of match tickets. Conditions apply. Find out more