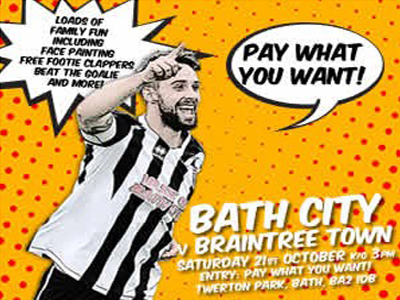 PAY WHAT YOU WANT – COMMUNITY DAY
This Saturday 21st October
It's time to shrug off the disappointment of the FA Cup and look forward to Saturday's annual 'Pay What You Want' Community Day Match – Bath City v Braintree Town. This is one of our biggest matches of the year and we want your help to generate a big crowd. Invite friends, bring along the kids, bring back people who used to come to City, and make this a great day. PLUS – share Facebook posts and retweet our tweets to help spread the word.
It's pay what you want, so there's nothing to lose!
We've arranged plenty of extra fun to make the day go with a swing:
NEW – FREE mini-footballs for under 16s
Get a selfie with Club mascot, Bladud
Inflatable "Beat the Goalie" in Randall's
Face painting
Footy Clappers for the kids
Get involved in our Sugar Smart campaign
Weight lifting demonstration from a local gym
Watch Under-8 and Under-11 football at half-time
Meet the players after the match!
10% of all gate receipts go to official Club charity, Age UK B&NES.
Watch our promotional video – courtesy of Phil Hargreaves, UWE:
What – Bath City v Braintree Town
Where – Twerton Park
When – 3pm, Saturday 21st October
How much – Pay what you want!
Our thanks to Anthem Publishing, Domino's Pizza, Novia Financial, Rotork and Bath City Exiles who have are sponsoring the Community Day. Thanks also to Snapdragons Nursery who have sponsored the Beat the Goalie event in Randall's and SouthGate Bath who have sponsored the mini-footballs.