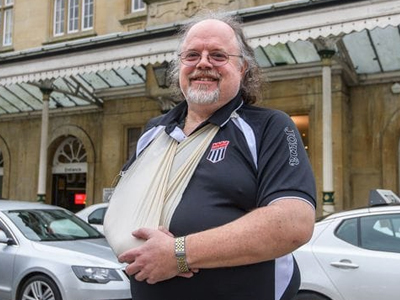 North Carolina High School Teacher Travels 4,000 miles to watch City
Jesse Stollings is no ordinary fan of Bath City Football Club. The high school history teacher from Hickory, North Carolina in America has never been to Bath and never seen the team play live. Despite this, he has travelled over 4,000 miles from his home in Hickory to visit Twerton Park and seen his heroes play Chippenham Town on New Year's Day – not even breaking both elbows while on a stopover in London could lessen his commitment.
Jesse's love for Bath City started with the computer game Football Manager. Looking for inspiration on a team to manage in the game, a friend mentioned the story of how Bath City fans had raised £350,000 to become a community-owned club. From that moment a love affair with Bath City began, and Jesse tunes in to the club's internet radio coverage of every match – unless he's teaching history to his high school students!
Now, thanks to a Christmas present from his wife, Jesse will feel the Twerton Park atmosphere first hand. The club will be laying on a hospitality experience for him in recognition at his exceptional commitment, including a pre-match meal and a chance to meet the team after the match.
When asked why he's making such a long trip to watch a game, Jesse says: "The club seems to be all about the love of the game. It's a great club with awesome staff, they remember the supporters – no matter where we are from. That's why I wanted to come and experience it myself."
Carole Banwell, general manager of Bath City, said: "Jesse's visit will make this local derby match even more special. We know our fans are among the most committed in the country but this is a totally different level! It's a fantastic way to kick off the year."