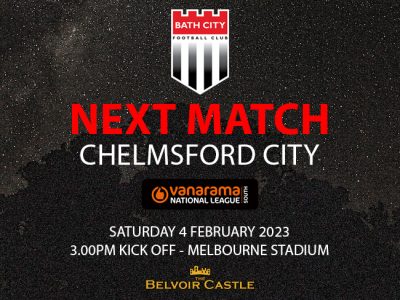 Next match – Chelmsford City – Away
Following final minute defeats in their last two away matches, City travel to Essex on Saturday hoping for a return to the form shown in the autumn.
Although they presently trail the seventh placed club and a play-off spot by ten points, there are still 57 up for grabs in the coming months so there is plenty to play for despite recent disappointments.
Awaiting them on Saturday will be a Chelmsford City team lying in sixth position who, despite trailing the leaders by fifteen points, look a fair bet for reaching those play-offs.
Their success so far has been built on having the league's second best defensive record, although the visitors will have noted that five defeats have come in the past ten outings.
The last two have seen a home defeat to Welling and Tuesday's draw at bottom of the table Hungerford which saw two of the Clarets sent off.
Should they win promotion, they will be greatly encouraged by their record against National League clubs in this season's knock out competitions.
Having knocked out Aldershot in the FA Cup, they only lost narrowly to Barnet in a replay, while in the Trophy, York City needed a penalty shootout to progress after Wealdstone had been eliminated in the previous round.
The first meeting between the two Cities was a rescheduled match on a very wet evening in early November when a goal from Harry Lodovica earnt his club its third consecutive win at Twerton Park, the best sequence in over fifty years of this fixture.
The corresponding fixture at Melbourne Park last season was played in dismal January weather in a match mainly remembered for the penalty award to City which was changed following an intervention from the referee's assistant and we went down to the single home goal.
This will be the 44th visit by City to Chelmsford in the League with our record since 1938 standing at nine wins, seven draws and 27 defeats, the majority of those matches being played at the Clarets' former city centre home at New Writtle Street.
The twelve matches played at Melbourne Park, which is located in the outskirts, have seen only one draw with the most memorable of City's three wins being the 4-3 success in 2020.
It would be fair to say that it is not the best ground in the league. Affectionately known as The Gulag by home supporters, it is in fact an athletics stadium and so the pitch is surrounded by a running track but there is usually a good atmosphere at the ground.
Although there are few attractions for the visitor in Essex's county town and very few pubs in the vicinity of the ground, the Clarets Bar at Melbourne Park is always welcoming and has a good range of beers and snacks on offer, including a full English breakfast from midday.
There is some helpful information for visiting supporters on Chelmsford's website including a link for purchasing tickets in advance, which are cheaper than at the turnstiles.
As there will be no Supporters Club coach running to the match, this looks like being another where the majority of those supporting City will be that loyal band of exiles.
The 170 mile trip by car from Bath will take around three-and-a-half hours via the M4 and M25.
The train journey from Bath Spa will take around three hours involving changes at Paddington and Liverpool Street followed by a two mile journey to the ground from Chelmsford station.
However, a train strike is scheduled for the day before and this may affect services on Saturday while engineering works are planned out of Liverpool Street.