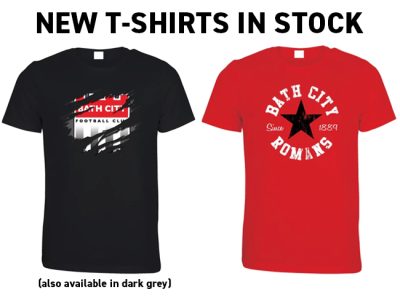 New City T-Shirts Now in Stock
We are pleased to announce that three new City t-shirts have been made available for purchase on the club shop's website.
Priced at £18 each, these t-shirts are perfect casual attire for any City fan to show their support wherever they go. One design features the Bath City logo 'ripped' across the chest and is on sale in both black and grey.
Also newly in stock is the 70's inspired 'Bath City Romans' t-shirt with a star design. This one comes in red only.
Elsewhere on the website, home and away 2022/23 replica shirts are available to pre-order now. Please note, images of the new kits will not be released until the official launch of the upcoming season.
If you want to order any of these items or take a look at other merchandise we have in stock, please visit the club shop website at https://www.bathcityfcshop.com/.