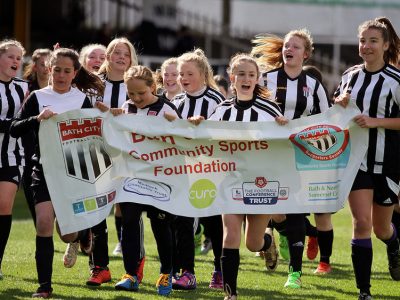 New Bath City Foundation Women's Academy
We're pleased to share the news that the Bath City FC Community Sports Foundation has launched a Women's Academy in partnership with Bath College.
The new initiative includes players aged 16 to 19 who study at the College and train at the Odd Down Sports Ground. The academy will help to meet an increasing demand for women's football in the Bath area from young players that has grown in recent years, and seeks to build on the success of the men's programme with the Bath City Football Academy. The Foundation will provide training, and the team will compete in the English Colleges Football Association.
The Foundation is seeking donations to help fund this important new project which could really help advance the development of women's football in the city. Each training session costs around £100, so your donation can make a real difference. Donate online now
If you are interested in providing sponsorship or wider support for the Women's Academy, then please contact Simon Tapscott, simon@dogoodthings.co.uk, 07816 322056.