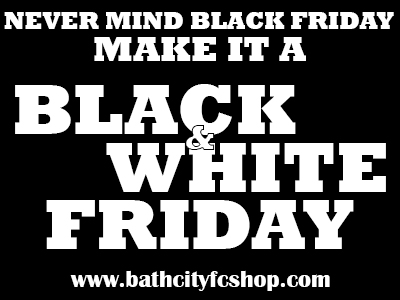 Never mind Black Friday … It's BLACK & WHITE Friday
With Christmas looming and at least three home matches to look forward to in December, it's the perfect time to stock up on your Bath City hats, scarves, shirts, badges and more. And in the true spirit of modern commerce, we're offering 10% off everything over our Black & White Friday weekend.
Whether you're buying for yourself or for festive gifts you need to go online from midnight tonight and simply enter the offer code BLACKANDWHITE at the checkout to get 10% off all merchandise (excludes tickets and delivery).
Starts: Midnight Friday 24th November (that's late Thursday night)
Ends: 11.59pm Monday 27th November
Offer Code: BLACKANDWHITE
Where: www.bathcityfcshop.com
Shop early as we have limited stock of some items.