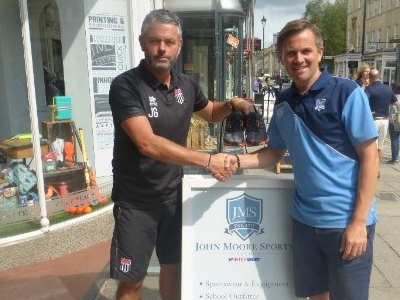 Jerry gears up for charity half marathon with John Moore Sports
Jerry Gill's in full training for the Cheltenham Half Marathon on Sunday 30th September – when he'll hopefully be buoyed by a win over Welling United the day before. He's running in aid of two charities – LINC (The Leukaemia and Intensive Chemotherapy Fund) and Great Western Air Ambulance Charity (GWAAC) – Bath City's official charity of the season. Jerry will be visiting GWAAC next week and launching a JustGiving page where you can make donations.
The photo above shows Jerry receiving a pair of trainers from Rob Moore of perimeter advertisers and shirt sponsor draw supporters John Moore Sports, to help with his race preparation. Thanks to Rob for his support which is very much appreciated.