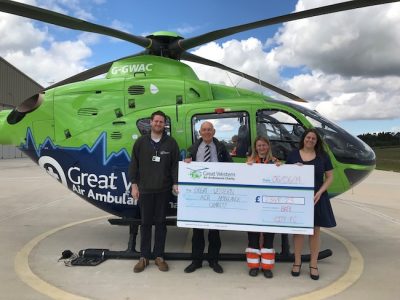 Great Western Air Ambulance sign off their season at Bath City
Commercial Manager Bob Chester visited Great Western Air Ambulance Charity (GWAAC) today to hand over a cheque for £2,348.23, marking the end of their year as the Club's Official Charity.
Ian Cantoni, Community Fundraising Coordinator at GWAAC, said, "It's been a wonderful year working with the team at Bath City. We have never failed to be impressed by the kindness and generosity shown by all of the fans of the club and have come to look forward to seeing so many familiar faces at the ground each time we have visited. From our time as Charity of the Season, it is only too clear what a fantastic community club Bath City is – they really are a credit to the city. This has been reflected in a fantastic total raised for GWAAC this season: £2,348.23. We are truly grateful to all of Bath City's fans who have supported GWAAC – thank you for helping to keep Bath's local air ambulance flying."
The Club's new Official Charity of the Season will be announced next week.