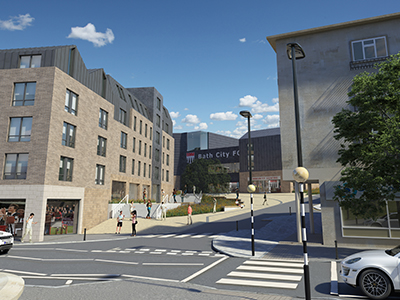 Our redevelopment planning application is now live – please register your support
The Bath City Football Club and Twerton High Street Redevelopment planning application is now live on the Bath and North East Somerset Council Planning Portal, with Planning Application Number 19/02276/FUL.
We at the Football Club along with the Supporters Society, Supporters Club, Community Foundation and Bath City Youth are now asking you to visit the site and register your support for your Club's planning application.
PLEASE NOTE – under the heading Nature of submission, the site defaults to Comments Only. If you wish to register support, be sure to select the option marked Inform the Authority that you support the application.
Register your views now at this link
View the application here
On the occasion of the application going live, Chairman Nick Blofeld had this message for Bath City supporters:
"This is a once in a lifetime opportunity, a real chance to transform your Club and Twerton. Without this type of development, it is very difficult to see how the Club survives long-term. We can't continue as we have in the past few years, the Club needs to be both self-sufficient and pay off its debt. And Twerton has had no real investment for decades, this project can help transform and revitalise the High Street. Local or national government cannot afford this scale of investment, but a commercial operator can, and working with them we believe we can make a genuine, and big, difference to both Twerton and your Club. This is why we want everyone to get behind us to register support. It's why we think the council and politicians should support this and make a real difference, to take the chance of a lifetime and work with us."
Manager Jerry Gill added:
"The redevelopment of Twerton Park will not only give us, the Football Club, a brand new, fit for purpose and state of the art facility, but also a hub for the local community to use on a regular basis. The stadium will give players and staff the feel-good factor when turning up for work and create a safe, welcoming environment for local children and adults to visit and be part of. I'd urge all City fans and local people to support the development.
You can register your views now here
Your support will be vital to demonstrate the popularity of the scheme and to show how important keeping Bath City at Twerton Park is to people across the city and the wider area, and what a difference the redevelopment can make to the local community.
When you are on the Bath and North East Somerset Council Planning Portal, please do explain why the scheme's success is important to you. Benefits to consider include:
Keeping the Club you love alive for the long term in a sustainable way
Ensuring the team continues to play at Twerton Park where it's been for over 80 years
The development will have a major positive impact in an area that desperately needs investment
Consolidating the Club and its family of charity and youth groups at the stadium will help achieve even greater impacts on public health and sports participation
Whatever your reasons, please try to give a sense of why you personally are backing the scheme.
If you need any further information on what's planned, visit the redevelopment section our website to view a range of documents and before and after images, or drop into the Club to chat with one of the board or staff. Or why not watch the video which shows what we plan to achieve. Watch now
Thank you for your support – your Club is counting on you!