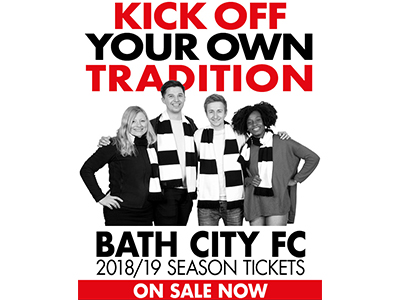 Don't miss out on the savings – get your Season Ticket now!
It's the Bank Holiday, you've got a bit of time on your hands and the Early Bird Season Ticket offer is going to finish in a few days time. So why not seize the moment and sign up for next season?
Last season we increased Season Ticket holder numbers by 30%, League crowds rose by 11% and overall we welcomed nearly 3,000 more people through the gates for League and Cup matches. Thank you for your support. We'd love to aim even higher next season and want you to be part of that every step and kick of the way.
Buy or renew your season ticket now and save up to £64, and get £16 of drinks and shop vouchers. Plus you'll be entered in a draw to feature in an official team photo!
Adult – Early Bird price – £209 – Save £64 – buy now
Senior (65+) – Early Bird price – £161 – Save £49 – buy now
Student/U18 – Early Bird price – £114 – Save £33 – buy now
Under 16 – Early Bird price – £19 – Save £23 – but now
Jerry and Jim's team is really starting to take shape now, with the signing of Ross Stearn on a two-year contract showing our ambition to go for promotion. And there will be some fantastic matches to look forward to, not least against Chippeham and Torquay…
Apply online, pick up a form in the Club Shop or download one, or call 01225 423087 (working days) and guarantee your savings now.
We look forward to welcoming you on board for an exciting 2018/19 season.