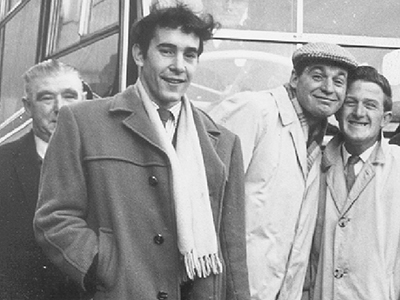 City Stalwart Roger Swift passes away aged 74
The Club are very sad to hear that former defender Roger Swift, a City stalwart from the 60s and early 70s, has passed away aged 74.
Roger first signed for the club aged 15 and following his first team debut in March 1963 he went on to play over 300 times, scoring his only goal in his 199th appearance.
Mike Denton, City's legendary forward from the 1960s, has fond memories of his former team mate.
"The main thing I remember about him was that he always gave 100% especially in the FA Cup tie at Bournemouth when fellow defender Ian Macfarlane was injured. He struggled a bit that day against Coughlin, the Bournemouth centre forward, but he never quit and certainly wasn't to blame for the defeat. He was a genuinely nice guy."
His career was nearly ended in the early 1970's by a serious back injury but he overcame this to play for a couple more seasons and was awarded a testimonial by the club in 1973 when the opponents were again Bournemouth.
Later that same year, after 12 seasons with the club, he joined Trowbridge Town.
The thoughts of all connected with Bath City are with Roger's family and friends at this sad time.