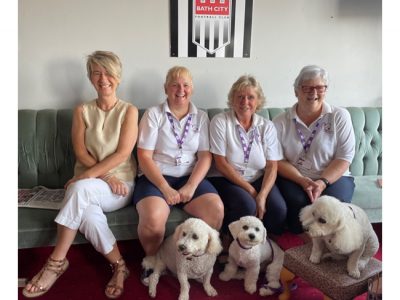 Forget Me Not dementia services
Bath City FC are delighted to announce a partnership with Forget Me Not dementia services.
The Forget Me Not Club was founded in 2020 with a vision to make a difference for people with dementia and their carers. Demand for their quality services grew so quickly that they soon found themselves in need of more, and permanent, space.
Co-Founder Ruth Lane believes that she has found the perfect space in the John Reynolds (Western) Lounge at Twerton Park, home of Bath City FC. Ruth said: "With its cosy atmosphere and stunning views across to Kelston we knew instantly that within our new home here at Bath City we would be able to provide a stimulating and safe environment for people with dementia and to support carers to have a respite break."
Ruth and her specialist dementia-trained staff prepare delicious home-cooked meals for their clients daily on site, as well as providing therapeutic activities and companionship in a warm and caring environment.
Bath City have extended a warm welcome to the club's latest arrivals. General Manager Carole Banwell said: "It's a central part of our vision to grow Twerton Park as a community hub, providing a week-round, multi-use venue for a wide range of organisations. Forget Me Not's presence adds to the variety and vibrancy already being generated by our other commercial and community partners who already call Twerton Park home, and we are delighted to welcome Ruth, her team, her clients – and their three adorable "pat dogs", to Twerton Park."
If you wish to find out more about the other spaces for rent or hire at Bath City FC, from 100–3000 square feet, please contact carole.banwell@bathcityfootballclub.co.uk
For more information about the Forget Me Not Club please contact ruthalane@hotmail.com