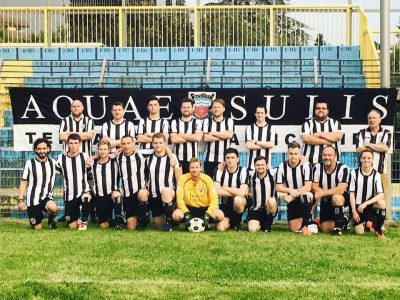 City fans help mark Anglo-Italian Cup anniversary
It may have taken 40 years, but Bath City finally restored some pride in Calcio Lecco. A 3-0 reversal in the 1976 Anglo-Italian Cup final, played 40 years ago to this day (Thursday 29th June) provided the northern Italian outfit with one of their finest moments, but they couldn't repeat the trick in a supporters' match, played amongst anniversary festivities at Stadio Rigamonti-Ceppi. A collection of current and former Lecco players reunited, as several stunning banners were unveiled on the eve of the game.
An 8.15pm kick-off was required following the searing heat and prolonged celebrations, and match time reduced to an hour with around 200 spectators in attendance. Lecco started strongly with Tim Mourant keeping City in it following a string of fine saves. He was powerless to prevent the hosts taking the lead on 10 minutes, a fine move through the centre being nonchalantly side-footed home by Roberto Bassi from 15 yards. City responded well with Ben Hatton tapping wide, before his strike partner Jack Rowlands made no mistake in front of goal. Paul Hill's long ball forward was collected by the youngster, who cut inside of two defenders before slamming the ball past a standstill keeper. The Italians dominated the rest of the half and were rewarded with another fine goal, again breaking through the middle with some fancy footwork and a tidy finish from Manuel Bonacina giving Mourant no chance. A very swift half-time interval gave the Romans a chance to regroup, and they equalized soon after the restart. A poor goal-kick from the hosts was collected by Rowlands, who again had to shimmy around defenders before coolly curling the ball home from 12 yards. Replacement keeper Hatton was rarely tested in the second half with his defence holding firm. Right-back Mark Stillman saw his probing run forward nearly create an opening, with Rich Miles just failing to fully connect with his cross when well placed. A flurry of flares certainly lit up the already beautiful surroundings as the meeting drew to a close, with the sides unable to be separated.
Full-time saw a spectacular flare display as players from each side embraced. It's an experience Bath City supporters will never forget, and the wonderful hospitality shown by the Italians will live long in the memory. Friendships have been formed and many will be calling for a second leg at Twerton Park soon.