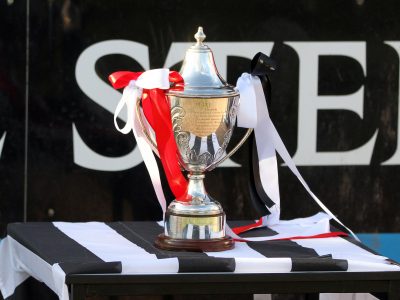 City and Exeter to compete for Brian Lomax SD Cup
The Brian Lomax SD Cup is an annual invitational competition organised by Supporters Direct (SD) and held between community-owned football clubs to celebrate the role fans play in owning and supporting their own football clubs. This is the first match since the cup was renamed "The Brian Lomax SD Cup", in memory of the former SD Managing Director, considered to be the "founding father" of the Supporters Trust movement, who sadly passed away in 2015. Brian was respected and loved by all who had the pleasure to meet and work alongside him. His dedication to supporter's rights and his tireless work for his beloved Northampton Town gave birth to the Supporters Trust movement that we all know today. His legacy lives on in every single member of each Trust up and down the country, and we are very proud to honour his memory annually with this fixture.
SD are very pleased to announce this year's Brian Lomax SD Cup will be contested between one of the newest supporter-owned clubs, Bath City and one of the oldest, Exeter City.
Jon Bickley from Bath City Supporters Society said "We're delighted to be contesting the Brian Lomax Cup with our friends from down the M5, Exeter City. We wouldn't have been able to conduct the Big Bath City Bid without Supporters Direct and owe them a debt of gratitude for the fact that we're now a community-owned club with an optimistic future. We can't wait to take to the field for what should be a great occasion."
Elaine Davis Deputy Chair of Exeter City Supporters Trust said "Having met colleagues from Bath City at last summer's SD conference, Exeter City Supporters' Trust is delighted to be visiting Twerton Park to contest the Brian Lomax SD Cup on July 14th. We're proud to be playing this game to celebrate Brian's memory & the continuing success of the movement which he championed. Up the Cities!"
The fixture will be held at Bath City's Twerton Park on Friday 14th July with a 7.30pm kick off. Tickets can be purchased on the turnstiles.
We hope you can all join us for what promises to be a fantastic match!