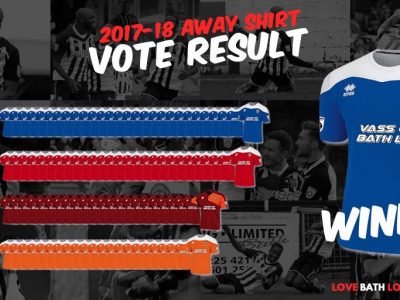 Blue is the colour after away kit vote
Following the recent General Election, democracy has again been in action at Bath City where fans have been voting for their choice of away shirt for next season. A keenly contested poll, which used weighted preferences rather than first past the post, attracted some 829 votes from Bath City community shareholders, fans and the general public.
And the winner is – Blue with white shoulders, narrowly edging out red with white. In third place, the Roma-inspired maroon with orange shoulder had a strong showing, and indeed led among people outside of the Bath City database, while orange and white trailed in fourth. The selection of a blue shirt perhaps reflects the popularity of the 2016/17 away shirt which was a lighter blue and featured in a healthy eight away league wins. City will hope to build on that record in the coming campaign.
Share of vote:
Blue with white shoulders – 28%
Red with white shoulders – 27%
Maroon with orange shoulder – 23%
Orange with white shoulders – 22%
Our thanks to everyone who voted. The new away kit is available to pre-order at www.bathcityfcshop.com.