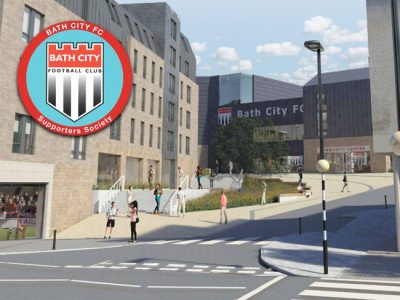 Changes to Twerton Park – Have your say
The Bath City Supporters Society is facilitating a supporter-run process of discussion and debate about some of the key features of the redevelopment plans. While many of the big decisions have been made, there is still room for input the design and interior of the ground itself. Find out more
There will be two main forums for discussion:
A new section of the online Bath City Forum, dedicated to the planned changes at Twerton Park. (You will have to create an account if you have not done so already).
A drop-in session to be held in the TR Hayes Lounge at Twerton Park: 6.30pm-8.30pm on Thursday 24 October
Please note that the drop-in session organised by Bath City Supporters Society to discuss the Twerton Park Stadium design, planned for Thursday 24th Oct, has been postponed.  New date to be advised shortly.
Apologies for the inconvenience and the short notice.  Due to the late unavailability of key personnel and the fact that the Planning Application is being still being reviewed and discussed with BANES (see update) the decision has been taken to postpone.  This will allow us to conduct a more relevant and meaningful discussion about the design options in the near future. 
The drop-in session is open to all supporters. It would be helpful to have some idea of numbers so please email bathcitysocietycommittee@gmail.com if you intend to come.
Please note that this is not a club-run consultation. It's a chance for us as supporters to self-organise and give useful feedback to the club about what we want from the new Twerton Park. The Supporters Society will help co-ordinate, but it will be down to interested supporters to work together and produce a set of recommendations.