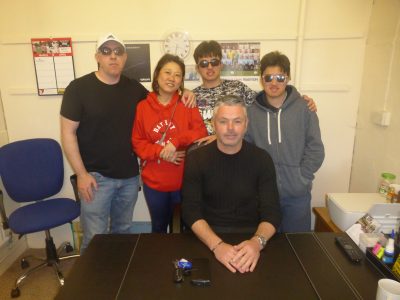 Bath City gains new fans from Stateside
Following Jesse Stollings' famous visit to Bath City at Christmas, the Gallion family are the latest Americans to discover the joys of being a Roman. Tim Gallion picks up the story:
"Hello from the newest Bath City FC fans from across the Pond. We were planning a trip to England and looking for an interesting football event to add to our trip. While searching the Internet my wife found the Bath City FC Team Manager Matchday Package and my son, Alex, loves the tactical aspects of the game. We contacted the team about the package, but realized the team would be away at Hungerford Town and the package would not be offered. After letting Bob Chester know we would not be able to make a home game, Bob went above and beyond contacting Jerry Gill to setup a time for him to meet with us and get a tour of Twerton Park the day before the Hungerford match. We were amazed the club would do that for visitors from the United States. Jerry met with us on the field and talked about the club, the team and his style of play. He also gave my son advice on the path to becoming a football manager. One of his best tips was to "keep making mistakes", the only way you really learn is by trying new things and learning from those mistakes. Bob and Jerry showed us around the ground and explained about the renovations planned for the future. The future of Twerton Park looks incredible.
We stayed overnight in the beautiful city of Bath enjoying its sights and pubs. When we arrived at Hungerford Town is when we really met the heart and soul of Bath City FC – the fans. Your fans are incredible; it was like watching a huge family get together. The large number of supporters created energy and noise which was a joy to be part of as we joined in on the chants and singing. My favourite chant was "My Garden Shed". The game was a tough one as it was the first hot day of the year with the unfortunate result of a draw. My family enjoyed themselves and met again for a quick word with Bob and Jerry after the game. We felt extremely fortunate to be so accepted by the team and the fans. We are Bath City supporters for life!
We arrived back in the States and listened to the Billericay game on Bath City Internet Radio and when Bob mentioned our family over the radio, my boys wore ear-to-ear smiles. We will continue to support the club and looking forward to being part of the fans base in the years to come. We are looking forward to another trip and a home game at Twerton Park."
The Gallion family – Tim, Wendy, Alex and Ben