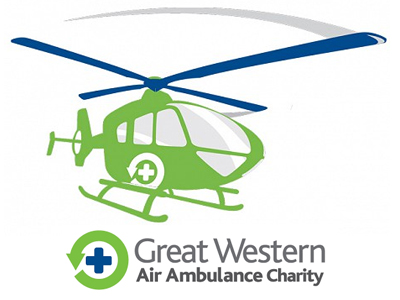 Bath City FC team up with Great Western Air Ambulance Charity
Bath City FC is delighted to announce that the Great Western Air Ambulance Charity (GWAAC) will be the Club's official Charity of the Season 2018/19. The relationship will see the Club partner with GWAAC throughout the season, hosting bucket collections at matches and helping to spread the message of what this essential charity does for injured people across the Westcountry.
Emma Carter, Head of Marketing and Fundraising at GWAAC said: "We are so excited to be partnering with Bath City FC and are so very grateful to them for wanting to partner with us too and spread the word about what GWAAC does. In 2017, the GWAAC Critical Care team attended 1,824 jobs, which includes patients in Bath. It is the generosity and care that we receive from the public that makes saving lives in Bath and the other areas we cover possible. Working with Bath City FC means a great deal to us at GWAAC, their support this year has been and will continue to be vital to maintaining GWAAC's helicopters and critical care cars in action, saving lives."
Emma continued, "Further to that, we are really keen to meet the local community of Bath and make sure that they know that GWAAC is here for them. We are based in Bristol, but our air ambulance covers Bath and North East Somerset, South Gloucestershire, Gloucestershire, North Somerset and surrounding areas; so we want Bath to know that we are here and on hand for emergency situations. This year we are carrying out a lot of work in Bath, including other events, for example, a programme of education in Bath primary and secondary schools, so we will definitely be seeing more of you and we can't wait!"
GWAAC follow on from last season's official charity, Age UK B&NES who thanked the Club for it's support. Its Chief Executive Janet Dabbs wrote to say, "A big thank you to Bath City for choosing us as their Charity of the Season 2017/18 and for raising the fantastic sun of £1,063.37. As you know we are a local independent charity and all the money raised in Bath & North East Somerset stays here to support the vital services and activities we provide for older people living in B&NES. Please pass on our grateful thanks to your fans for their generous donations."
GWAAC: who we are and what we do
Great Western Air Ambulance Charity (GWAAC) provide a critical care and air ambulance service for 2.1 million people across the counties of Bristol, Bath and North East Somerset, South Gloucestershire, Gloucestershire, North Somerset and surrounding areas. Our crew attend the most critical incidents across the region by helicopter or by one of our two critical care cars. This year we are celebrating our 10th birthday!
When someone is seriously ill or injured time is of the essence, and they need expert help fast. This is where we come in. The GWAAC Critical Care team consists of a highly trained and experienced Pilot, Critical Care Paramedic and Critical Care Doctor. From emergency blood transfusions to roadside amputations or treating cardiac arrests, our crew specialise in Pre-Hospital Emergency Medicine and Trauma Medicine, bringing the skills and expertise of an Accident and Emergency Department to the patient.
As a charity we need to raise over £3 million each year to stay operational, but receive no day to day funding from the Government or National Lottery. This means we rely on the generosity of our donors and supporters to keep flying.
Within 5 minutes of call to the GWAAC base, we can be on the road or in the air
We reach incidents within an average of 20 minutes
We respond to an average of 5 incidents a day
Read about us and contact us
To learn more about GWAAC, including events and how you can help, visit our website www.gwaac.com. GWAAC is not funded by the Government or the National Lottery, and therefore depends on the kindness and generosity of the public to be able to save lives every day. We are incredibly grateful for your support.
We would love to hear from you and answer any questions you may have. Contact us by clicking here.