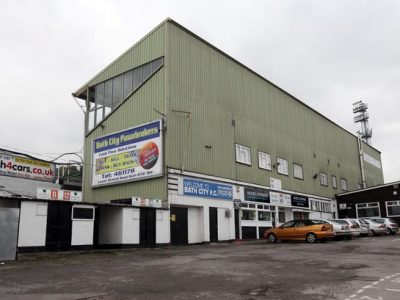 Bath City FC signs MoU with Greenacre Capital to revitalise Twerton Park
Bath City Football Club and Greenacre Capital are delighted to announce that they have entered into a Memorandum of Understanding in respect of the joint redevelopment of Twerton Park and Greenacre's neighbouring ownerships on Twerton High Street.
Nick Blofeld, Chair of Bath City Football Club, "Following Bath City's change to community ownership earlier this year, we are delighted to confirm our intention to undertake a partial redevelopment of the ground and an upgrade of the facilities. We believe that Bath City should be an integral part of the community in Twerton, and it is the Board's desire to secure the long term, sustainable future of the football club at Twerton Park. We also aim to improve the existing club facilities and make them more appropriate for the wider community, so that the club can become more of a local hub."
"We are a democratic, community-owned club and we will carefully consult with local people, community groups and our members and supporters to ensure that the redeveloped Twerton Park is a source of pride in Twerton, Bath and beyond."
Arnold Hersheson, Investment Director of Greenacre Capital, "Greenacre is a socially responsible investor. We look to turn sustainable and social projects into positive investments, and focus on collaborative partnerships to bring forward our developments. We are hugely excited about the potential at Twerton, and look forward to working with the football club and the local community to create a long term, sustainable future,"
Detailed proposals will be worked up over coming months, with initial community consultation events scheduled for the autumn. The joint venture was proposed by Bristol-based ADAPT Real Estate, who are retained to advise the landowners and will be co-ordinating the development team.
Our Partners
Greenacre Capital is a London-based private investment company that works across property, independent living and clean energy. Greenacre Capital works in partnership with governments, investors and charities globally to identify investment opportunities that are both profitable and socially responsible.  
ADAPT Real Estate is a Bristol-based owner-managed company that specialises in the asset and development management of multi-sector real estate. Combining technical skills and practical experience, ADAPT works alongside investors, developers, occupiers and lenders to devise and deliver bespoke real estate solutions.