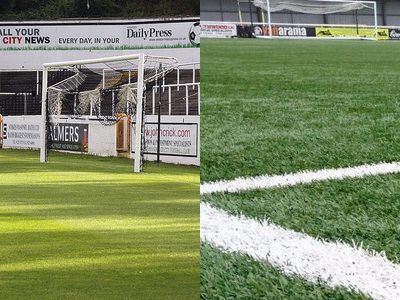 3G Pitch Feasibility Study and Discussion Meeting
Following a commitment to investigate the feasibility of a 3G pitch in the Big Bath City Bid prospectus, the Club Board commissioned a study on the matter from a dedicated working group. The report has now been presented to the Board recommending that the Club investigate sources of funding with a view to installing a FIFA Quality Pro synthetic pitch. The Board supported the findings of the report and has now invited the controlling shareholder, The Bath City Supporters Society, to canvas opinion of its members whether to take further steps to implement the recommendations – all subject to any required further investigation and being sure of a sustainable funding model.
You can read the Executive Summary of the report here and a library of documents including the full report is available to read in the Club Office. 
The Society has invited its members to an Open Discussion Meeting at Twerton Park next Thursday 22nd March at 7.30pm, when there will be an open exchange of views and information from all parties – full details here. Following this meeting an EGM will be called at a later date to vote on whether to adopt the report's recommendations, with the date to be confirmed subject to any matters arising in the meeting,