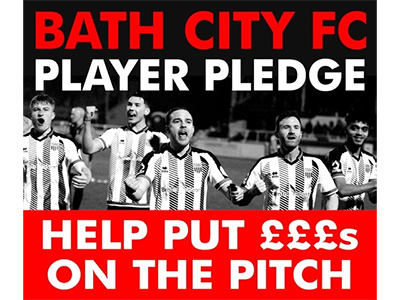 Your chance to meet the manager as Player Pledge tops £8,000
Thanks to everyone who has pledged or donated to the special Bath City Player Pledge fund. After launching the enhanced scheme a few weeks ago, we've raised nearly £2,000 of extra funds to help put players on the pitch, reaching a total of £8,082. And with such a tough run of injuries we can see how valuable every penny is.
If you haven't donated already, please do so now if you can, and come along to meet Jerry at the special reception after the match this Saturday. Find out more about the Pledge here
Remember – we're aiming to raise £15,000 to help keep a top quality team on the field and if everyone in our average crowd donated £15 we'd smash through the target. Donate £10 or more now
If you have donated – thank you and we hope you can make it along on Saturday. Please contact us to confirm attendance at 5.30pm in the J. Reynolds (Western) Ltd. Lounge by emailing info@bathcityfootballclub.co.uk. But don't worry if you're not around, there'll be another chance later in the season.