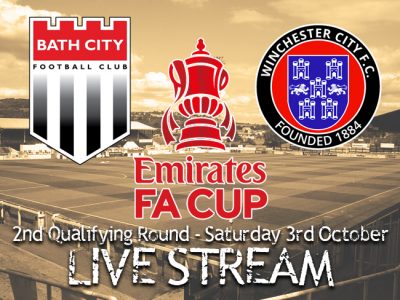 Watch Bath City v Winchester City FA2Q – Live Stream
Due to circumstances way beyond our control, this Saturday's season opener will kick off behind closed doors. We wish you could be there, but we've tried to arrange the next best thing with a live stream of the match, filmed by our own club cameraman and with commentary provided by Bath City Internet Radio. We're also using what we believe to be a strong, reliable streaming platform, but we hope you'll bear with us if there are any small teething problems. Please note – this is not the same system or team provided externally for the play-off match earlier in the year.
Register now and you can watch the match for just £5.99 wherever you are. As this is an FA Cup tie, all viewers must pay, but we will release details about league matches and charges in due course.
A reminder that the game kicks off at 3pm on Saturday 3rd October and we hope you can join us then to get behind the team from the comfort of your own home.