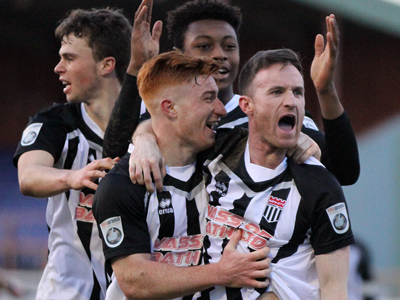 Vote for City's 17/18 goal of the season
Here are your 2018 Bath City Goal of the Season contenders, sent to us by Des Stillman on VHS from 1993!
Simply select your favourite 3 goals, in no particular order, and comment on Facebook, Twitter or the Roman Forum.
The highest polling six goals will make it to a final shortlist that will be voted on at Saturday's final match at home to St Albans City, make sure to grab your voting slip and join us in Charlie's and Randall's before and after the match to enjoy the End of Season Awards presentation.
1. Andy Watkins v Bognor Regis (a)
2. Connor Lemonheigh-Evans v Havant & Waterlooville (a)
3. Jack Compton v Gloucester City (a)
4. Jack Compton v Hungerford Town (a)
5. Jack Compton v Knaphill (h)
6. Andy Watkins v Hemel Hempstead Town (h)
7. Jamie Lucas v Hemel Hempstead Town (h)
8. Opi Edwards v East Thurrock United (h)
9. Miles Welch-Hayes v East Thuttock United (h)
10. Andy Watkins v East Thurrock United (h)
11. Jack Compton v Margate (a)
12. Jack Compton v Margate (a)
13. Tom Smith v Chippenham Town (a)
14. Jack Compton v Concord Rangers (h)
15. Jack Compton v Braintree Town (a)
16. Jack Compton v Welton Rovers (h)
17. Jack Compton v Welton Rovers (h)
18. Opi Edwards v Poole Town (a)
19. Tom Smith v Havant & Waterlooville (h)
20. Sean Rigg v Hemel Hempstead Town (a)
21. Antoine Semenyo v Gloucester City (h)