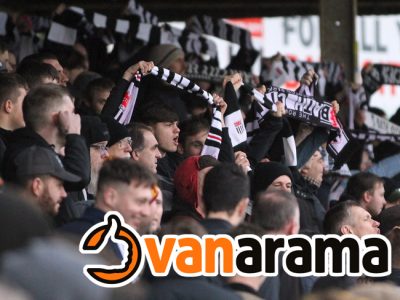 Vanarama's Fanarama! A fan's take on 2019 – and what the New Year could bring
Bath die hard Kelvin Taylor offers league sponsors Vanarama a personal take on goings on at Twerton Park as the year comes to a close.
So we are getting close to the half-way stage already – sum up the season so far in your own words.
Getting better all the time! We started well, lost our way, then we have managed to come on strong and now we look like a very capable team. If things didn't go wrong in late August for a few weeks we could have put up a title challenge.
Is it to late the threaten the very top? 
Realistically, maybe. Wealdstone have a big advantage and games in hand. But stranger things have happened. They are a strong side but so are we. Let's see how they do over the next few weeks.
If you can wrap up one Christmas gift for your manager, what would it be?
A five year contract and a biro! Jerry is very well respected within the fan base. I think he will serve for a long time if other clubs keep their distance!
If it can't be Bath come April, pick your National League South title winner
Wealdstone, but I won't rule out Slough Town. They are both strong teams. Havant were my summer prediction but they seem to have dropped a lot of points already.
The busy Christmas and New Year calendar – love it or hate it?
I think it's one game too many and for part-time players who all have jobs it's too much pressure. As a fan it's great but the players will all be very tired come January 4.
What's your high point of 2019?
We have had a great 2019. There have been a lot but beating Torquay United in January with the crowd, atmosphere and desire on show will take some topping in the last few weeks! What a day.
Your player of 2019?
I'm going for someone who energises the team and the fans. Tom Smith.
Your most memorable away day so far this season?
My favourite away game this season was Dulwich. Big crowd and big performance. Last season it was Billericay.
When did you first start following the club?
I've been attached since 1998. I'm not as regular as I once was but I try to make sure I'm there as often as I can. There is no place quite like Twerton Park, is there?
What makes the club so special to you?
Unlike going to a Premiership game where you are purely a number, your support is needed and its appreciated. It's the same faces you see whenever you go and the players and fans interact. There's an unbreakable spirit and even when the football isn't great you can rely on some classic terrace humour to keep you going.
The National League's leasing partner Vanarama have this season launched the Club Reward scheme to help fans back their club's budget. Every time a fan takes out a brand new van lease with Vanarama or a brand new car lease with Motorama their club will earn £100 and you will receive £30 cashback!
For the latest van leasing deals head to Vanarama.
For the latest car leasing deals head to Motorama.