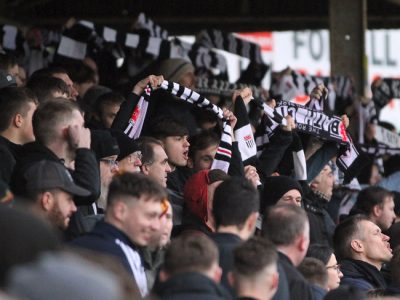 Vanarama National League South fan preview: City supporter Jack Rowlands puts it all out there!
With less than a week to go before the start of the 2019/20 Vanarama National League season a supporter from all of the 68 clubs across the three divisions has been asked for their thoughts on the forthcoming campaign. Here are Jack Rowlands answers.
The new season is nearly upon us – what have Bath City fans got to look forward to?
I think we can hopefully look forward to another successful season on and off the field. Reaching the play-offs was a positive for us so I'm hopeful this season we could go one better. Our style of football at times last season was exciting so I'm eager to see that continue. Off the pitch we had a lot of success in having more people coming through the gates.
Last season certainly saw progress. Can the Romans cross the play-off line this time?
I believe we can. Jerry Gill has certainly strengthened our side over the summer to give us the best possible chance. Last season was sort of unknown territory, we've spent a fair few seasons just being a mid-table side so just reaching the play-offs was a positive for us. That hopefully means we'll be more than ready for the opportunity to come around again.
So what will be different this season from last at Twerton Park?
We've lost a couple of our best players in Anthony Straker and Robbie Cundy over the summer, as well as the few loan players we had so we've had to replace them. We've reacted well though and we've got a lot of strength in depth.
What's been the greatest bit of business done over the past few months?
Keeping hold of Jerry Gill is definitely up there! I'd say the signing of Tyler Harvey has been the best transfer so far, we've lacked a proven goalscorer for the last few years so to sign a striker that scored 20-plus goals in a side that was relegated will hopefully turn out well in our favour.
Who will be your one to watch coming August 3?
We've signed a lot of exciting players, Tom Smith, Connor Riley-Lowe and Jordan Simpson to name a few. For me though it'll be Joey Raynes, our homegrown lad. Last season he stepped up to a whole new level.
Who are the other teams to watch out for?
This division has always been really strong and sometimes very unpredictable, but I'd say the teams to watch out for could be Havant and Chelmsford. Both have experienced managers and a bigger playing budget than most, so I'd expect to see them somewhere near the top.
What trip are you most looking forward to visiting and why? 
I'm looking forward to Weymouth away. Although it's on a Tuesday night which isn't ideal, it's a brilliant old school ground with a good atmosphere from a well-supported club.
And what game would you like to win more than any other?
Easy. The A4 Derby vs Chippenham. There's not many better feelings in football than beating your main rivals home or away, I think a lot of people would agree with that.
What opposition player would you most like to see in your line-up?
Before his move to Boreham Wood, I'd say former Oxford City striker Kabongo Tshimanga. He's a natural goalscorer and a real handful so keeping him out of games proved difficult for most teams in the National League South.
Finally, the key question – where do you predict your team will finish next season?
I won't say what place exactly, but I'd be happy as long as we made the play-offs again.
Vanarama have recently launched the National League Club Reward scheme to help fans back their club's budget. Every time a fan takes out a brand new van lease with Vanarama or a brand new car lease with Motorama their club will earn £100 and you will receive £30 cashback.
For the latest van leasing deals head to Vanarama. 
For the latest car leasing deals head to Motorama.