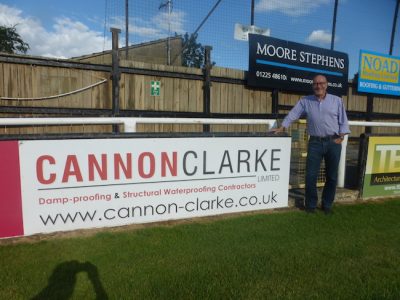 Cannon Clarke announced as new programme sponsor
We're pleased to announce that long-time supporters of Bath City, Cannon Clarke, will be the new programme sponsor for the 2019-20 season. We've very grateful to Dave Clarke and his company for this commitment.
Dave visited the ground earlier this week to confirm the sponsorship and had this to say:
"I am really delighted, that through my company Cannon Clarke Ltd, I am able to extend my sponsorship at Bath City Football Club, to include the Match Day programme this coming season.
As a long term supporter of Bath City for more years than I care to remember these days, I was delighted to see that Manager Jerry Gill confirm his commitment to the club during the summer, and he can now hopefully build on the solid foundations he laid last season following what was one of the most enjoyable & entertaining seasons at Twerton Park for many years.
I think a professional and well produced Match Day programme is a must for any serious football club and as a former Editor of the programme back in the 1970's & 1980's, I am only too aware of what goes in to producing each edition and the current Editor Adam Matravers does a brilliant & well researched job, sometimes at very short notice, when Cup replay editions are needed.
Bath City are currently making people sit up and take notice of them again after a number of underachieving years and if Jerry Gill & Jim Rollo can keep the momentum & positivity going and the team can produce the type of consistently entertaining football they produced last season, the increase in crowds will continue and the standing of the club will increase even more. Ultimately this should lead to on-field success in the League & with a bit of luck, in the FA Cup as well!!"