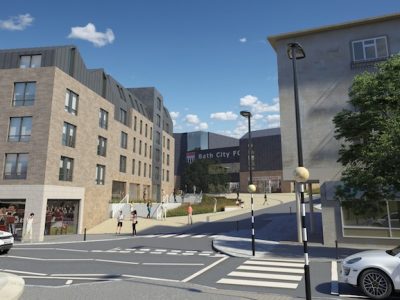 Updated Redevelopment Questions and Answers
Whether there are things you're unsure of about the redevelopment or just want to have all the latest facts at your fingertips, here's an updated Q&A about what's going on with the proposal.
What is the latest on the proposals for the partial redevelopment of Twerton Park and Twerton High Street?
Following extended consultation with local residents, fans and other stakeholders, and revisions to take account of input where possible, Bath City FC and their development partner Greenacre Capital have submitted a formal planning application to Bath and North East Somerset Council. The application can be viewed in full here
What is the scheme?
The scheme we are proposing is a mixed-use redevelopment of Twerton Park and adjoining land behind Twerton High Street, comprising of: replacement spectator stand; new east terrace and playing pitch (levelling with 3G surface); affordable housing; co-living apartments; student accommodation; community function space; a gym; commercial units; modifications to the external appearance of the existing retail and residential units along the High Street; associated landscaping and public realm works.
It will include:
12 affordable housing units, 33 Co-Living apartments, 6 apartments and Purpose Built Student Accommodation for 356 bedrooms.
Community space with seating capacity for up to 200 people, a gym, a sports bar and social club as well as a kitchen area.
A new grandstand with 1,000 covered seats, new club facilities such as office space, a Club shop and ticket office, changing rooms, hospitality lounges and boxes, toilets, bars and food outlets.
Onsite parking for 49 vehicles as well as secure storage for 218 bicycles.
Refurbishment of Twerton High Street and improvements to public spaces.
Why is the redevelopment necessary?
Without significant investment in infrastructure and facilities to generate more income, the future of football at Twerton Park is uncertain. Despite the community buyout in 2017 and an increase in attendance by over 50% the Club continues to face financial difficulties. The Club has debts totaling more than £1million, which must be cleared by 2022, and is currently running at a loss. Twerton is a fantastic community and we're excited to be involved in this project. We're proud of our football club and we want the best for them, so we're looking to invest to make improvements for the Club, its fans and the local community.
What happens if this development does not take place?
Without significant investment in the Club's infrastructure and facilities, the future of football at Twerton Park will be very uncertain. It is the Club's strongest desire to remain at Twerton Park and play a full part in the local community and provide a "hub" for lots of activities.  If a major development does not take place, the Club's debts are not cleared and new revenue streams aren't created the future is likely to see an enforced move elsewhere and the sale of the ground, with the Club no longer at Twerton, which we believe would be a major loss to Bath City FC, Bath and the Twerton community.  
What are the timescales?
A planning application has now been submitted and if it is successful we expect work to start on site at the end of the 2019/20 season.
What will Bath City FC be gaining from the development?
The main aims of the proposals are to secure a long-term future for Bath City FC at Twerton Park by repaying the Club's debts, providing much improved facilities for supporters and players, and enhancing the Club's future revenue streams. The redevelopment will provide a new grandstand, including changing rooms, officials and physio rooms, improved spectator facilities and community facilities including the 3G pitch.
How might development affect the local community?
The Club has a commitment to the Twerton community and it is proposed that the local area will benefit from the redevelopment through a new community space and better sporting facilities. We hope this will support the groups and organisations currently in Twerton but also encourage new activities.
As part of the Club's community owned status it has established a Community Working Group and has a dedicated Community Director on its board. The group is working to build on the success of the Bath City FC Foundation and increase the Club's contribution to the city through its activities in partnership with local charities, public sector bodies and community organisations. The group's strategy focuses on health and wellbeing, education and employment, social inclusion and sports participation. Organisations the club has engaged with in this connection include:
Bath MIND
Julian House including the refugee resettlement programme
Southside Project
Bath City Farm
the Stroke Association
Bath 3SG
St Mungo's
BaNES Public Health department
the Community Playbus
Time2Share
Bath Area Play Project
Time Bank
Quartet Community Philanthropy in Action
Dream Big Twerton
WEA Adult Learning
Localgiving
This is something the Club will continue to build on post-redevelopment.
In addition the new 3G pitch will act as a single hub for the 900+ strong football club family of the Bath City FC Foundation, Bath City Youth, Bath City Academy, Women's and University teams. The new sporting facilities will be available at discount for local schools and charities. The pitch will support the provision of public health initiatives, actively reduce social isolation, increase opportunities to participate in sport and improve rates of physical activity both in the Twerton area and across Bath and North East Somerset. The Club expect this, in turn, to have a positive impact on health and the rate of obesity amongst children and adults in the area.
The development will deliver new affordable housing for local people, along with 33 Co-Living studios specifically designed for young professionals and key workers in the area.
After decades of a lack of investment the development also includes a refurbishment of Twerton High Street, which will involve the renovation of some existing units as well as the creation of two new units.
Why students?
Including a significant element of student housing is needed to finance the overall scheme, paying off the Club's debts, paying for the new Grandstand and new clubhouse/facilities, creating new revenue streams for the Club, delivering much-needed Affordable Housing and Co-Living studios for local people as well as new community facilities and improved retail space.
Students will be a positive addition to the Twerton community helping to boost the vitality of the High Street and local area. Students bring significant additional spending into an area and make valuable contributions to the communities they live in. Students already play a key role at Bath City FC and other charitable organisations in the Twerton area.
In 2015/16 Oxford Economics assessed the combined impact of students at Bath's two Universities as supporting 7,900 jobs within BANES (equating to almost 1 in 12 jobs) and adding £388million to BANES's GDP.
This project is about securing the long term financial future of the Club. Without this significant investment the future of football at Twerton Park is very uncertain.
Who are Greenacre Capital?
Greenacre is a London-based private investment company that works across property, independent living and clean energy. The company works in partnership with governments, investors and charities globally to identify investment opportunities that are both profitable and socially responsible. As well as entering into a Development Agreement, discussions between Bath City FC and Greenacre have been ongoing for a considerable period of time and in light of these Greenacre acquired the parade of shops on Twerton High Street, including McColls and the Co-op, and also a strip of land between this parade and BCFC's car park, creating the opportunity for a more ambitious development that can significantly regenerate the centre of Twerton. Greenacre's acquisition of these elements clearly demonstrates their resources and commitment to our joint proposals.
Who else is part of the project team?
The award winning Bath office of Stride Treglown has been appointed as architects for the scheme with specialist input from renowned sports stadia architects FWP. They have been joined on the project by services and sustainability engineers BuroHappold, and structural and civil engineers Momentum, which are both Bath firms, together with JLL as project managers, transport consultants Phil Jones Associates and cost consultants QSPM.
What will happen to Bath City matches while works take place?
The original aim was that BCFC would continue to play matches at Twerton Park through the redevelopment process. However, having reviewed the project, the development will happen quicker and be more cost effective if the Club leaves Twerton for an agreed period. The Club is therefore looking at local clubs that could accommodate us. No decision has been made on this and discussions are ongoing as the pitch, travel times, Health and Safety considerations and supporter facilities are all important considerations.
How will this development affect the community ownership of the Club?
These proposals do not affect the community ownership of the Club. They will put the Club in a much stronger financial position. If the scheme gets granted planning permission the Club will receive a cash injection that can clear all of its debts.
You can post comments supporting the planning application here