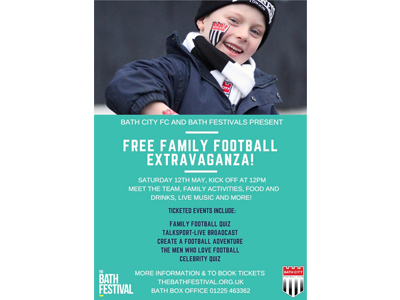 REMINDER: Bath Festivals Football Extravaganza at Twerton Park this Saturday
A reminder that Bath City FC are hosting a full day of Bath Festival, football-focused events at Twerton Park put on in conjunction with talkSPORT radio this Saturday (12/5).
For the fully updated programme and to book tickets please follow this link https://bathfestivals.org.uk/the-bath-festival/event/twerton-park-free-family-football-extravaganza/
This is an amazing, high profile event bringing national radio and Bath's biggest cultural event right into the city's beating heart of football – Twerton Park. Make sure you're part of it.