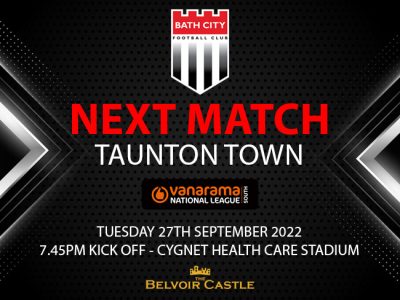 Next Match – Taunton Town – Away
Following their dramatic comeback at Oxford on Saturday, City make one of their shortest trips of the season when they travel to Taunton Town on Tuesday evening. This Somerset derby has been keenly anticipated by supporters of both clubs especially as there are likely to be several former City players in the The Peacocks' lineup.
Taunton were promoted as Southern League champions, winning 19 of their final 22 matches. They have made a steady start at this level with twelve points from their nine games and City fans who have witnessed 20 goals so far in our away fixtures may not be so spoilt on Tuesday. Rob Dray's team have conceded only five with four clean sheets while the six converted at the other end have come in only three of their fixtures. The last time they suffered a defeat in the League at Wordsworth Drive was in August 2021 and so far this season they have defeated Dartford and Chippenham while completing goalless draws with Welling and Chelmsford.
Taunton have enjoyed similar luck to City in the FA Cup draws with home fixtures against lower level opponents. Victory over Leverstock & Ford was rewarded with a visit from Isthmian League Walton & Hersham next Saturday.
Of course City fans will be interested to see some of their former favourites in the opposing line up. Nat Jarvis, Ross Stearn and Nick McCootie all scored many important goals over several seasons with perhaps the latter's pair in the FA Trophy semi final being best remembered. Dave Sims-Burgess and Lloyd James made the permanent moves to Taunton in the summer but the most notable signing by The Peacocks was that of Dan Ball, the former City captain who made 300 appearances for us over a ten year spell at Twerton.
This will be our 13th visit to Wordsworth Drive since the first in 1957, nine of them being in the Somerset Cup. There were also three FA Cup encounters some fifty years ago with City winning through on each occasion, the last in 1982 including two goals from Dave Singleton who sadly passed away recently.
By all accounts the ground has been upgraded since our last visit and full details, including admission prices, can be found at the Taunton website. The fifty mile trip by road will take around 1.5 hours from Bath and the Supporters Club are running a coach.
While it will be possible to use the train, there will be a replacement bus service from Bristol back to Bath.